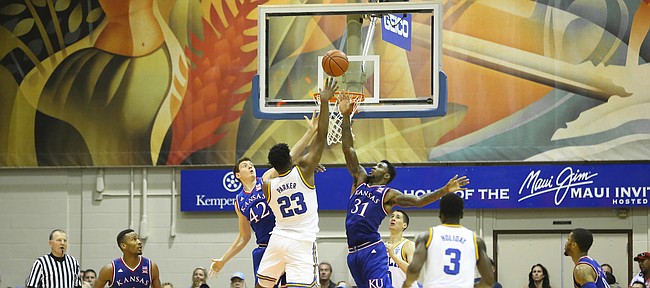 Lahaina, Hawaii — For the second night in a row, the Kansas University men's basketball team lit up the first-half scoreboard for more than 50 points during Tuesday's 92-73 victory over UCLA in the Maui Invitational semifinals.
Forget the points, though. This time around, it was the Kansas defense that stifled its opponent, building a 59-33 lead over the Bruins, six points more than the 53-33 first-half spread Kansas (3-1) laid on Chaminade in the opening round.
"Going in, we knew that they were a really, really good team defensively and that's what they hang their hat on," said UCLA big man Tony Parker, who finished 5-of-8 from the floor for 15 points and eight rebounds. "We had to get great shots to beat a team like that and we didn't take good enough shots. And we didn't get enough stops on the defensive end, with the way we were shooting, to even contend."
Photo Gallery
Kansas basketball v. UCLA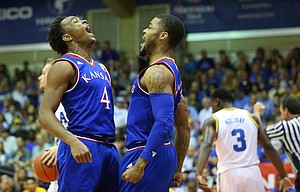 Images from the Jayhawks second-round matchup against UCLA during the Maui Invitational
UCLA coach Steve Alford lamented his team's sluggish start, the second of its kind in a row here in paradise.
Despite eventually building a six-point halftime lead in its Monday win against UNLV, UCLA trailed 16-7 to open that one and did not take its first lead until the 8:50 mark of the first half.
"Well, really tough first half," Alford said of his team's 26-point halftime hole on Tuesday. "We haven't started either (first) half well since we've been here."
Podcast episode
KU coach Bill Self applauds KU's first half in 92-73 win over UCLA in the Maui Invitational semifinals.
As Parker mentioned, a big reason for that was the Kansas defense.
The Jayhawks, who shot 58 percent on offense in the opening half, limited the Bruins (3-2) to 34 percent shooting (11-of-32) during the opening 20 minutes. Nine of UCLA's 33 points came from the free throw line and just two players made even half of their shots in that painful first half.
"That's a very, very good basketball team, definitely a top-five team in the country," Alford said. "And if we play poorly in a 20-minute stretch against that, it's gonna be hard on us. And that happened tonight."
The Bruins improved drastically in the second half, scoring 40 points and shooting 59 percent during the final 20 minutes. But most of that came with the game out of hand.
Still, Alford was pleased with his team's response and hopes that carries over into today's third-place game against Danny Manning-led Wake Forest.
"When you get knocked down," Alford said. "You either lay there and wait 'til somebody picks you up or you show some character and some toughness and some pride and do better."
— See what people were saying about KU vs. UCLA during KUsports.com's live coverage
---
---
---
More news and notes from Kansas vs. UCLA
---
More like this story on KUsports.com