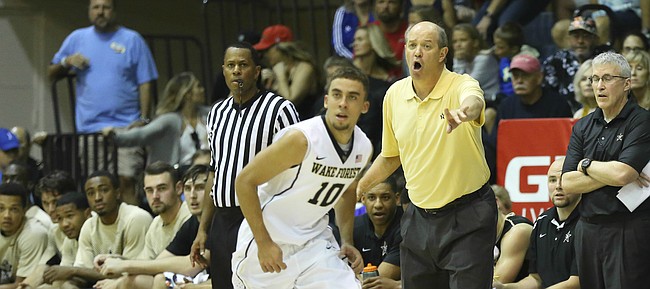 Lahaina, Hawaii — After taking care of business in a 92-73 victory over UCLA in Tuesday's semifinals, Kansas University next plays Vanderbilt, a team that whipped Wake Forest, for the Maui Invitational title.
The Maui Invitational championship game will tip at approximately 9 p.m. on ESPN.
Center Damian Jones (7-0, 245 junior) and guard Wade Baldwin (6-3 soph) had 17 points apiece while Jeff Roberson (6-6 soph) had 10 points. Seven footer Luke Kornet had eight points and six boards. Josh Henderson (7-foot senior) had nine points.
Photo Gallery
Kansas basketball v. UCLA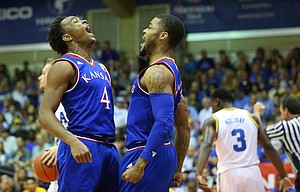 Images from the Jayhawks second-round matchup against UCLA during the Maui Invitational
"They are a lot bigger. We are standing height 6-7 1/2 with Perry (Ellis). They are 7-foot, 6-11," KU coach Bill Self said. "We'll have to play bigger than our standing height and utilize our quickness inside.
"Vandy would be hard to play no matter what. With no days to prepare for a team that runs 100 different sets ... Kevin (Stallings, coach) has said it's the most unselfish team he's had. It's like the open man is the go-to guy."
Podcast episode
KU coach Bill Self applauds KU's first half in 92-73 win over UCLA in the Maui Invitational semifinals.
"They have a great team. Their bigs are good," Ellis said. "It's got to be a team effort. We've got to grind the game out and get good effort."
Vandy (5-0) defeated St. John's, 92-55, in the opener in Maui, then stopped Wake Forest, 86-64, on Tuesday in the semifinals.
Stallings, 55, who has been at Vandy 17 seasons, came to the Nashville school from Illinois State, where he was head coach from 1993-99. He worked for Roy Williams at KU from 1988 to '93.
He was assistant on two KU Final Four squads — the 1990-91 team that went 27-8 and lost to Duke in the national title game — and the 1992-93 ball club that went 29-7 and lost to North Carolina in the national semis.
He coached the likes of Rex Walters, Adonis Jordan, Richard Scott, Mark Randall, Alonzo Jamison and current Wake Forest assistant Steve Woodberry, among others.
Stallings' current Vandy team is ranked 19th in the latest AP poll.
"It'll matter to me personally no matter who we play," Stallings said, before the KU-UCLA game, asked if the game would have special significance if the Jayhawks indeed were the foe in the final, which they turned out to be following a semifinal win over UCLA.
"Somebody mentioned it the other night at the (tourney) banquet. You had Bill (Self), Danny (Manning, Wake Forest coach) and me, three guys that had been a part of the KU basketball program.
"Let's see which guy came in third in terms of impact on the program," Stallings added smiling. "Bill won a national championship. Danny won a national championship and was one of the greatest players who played there and I was a lowly assistant coach.
"I was there five great years with Roy and proud of my time there. It's a wonderful place. My son was born there. He's 25 now. We have great memories of coaching there and Phog Allen Fieldhouse and lots of success. My son was on the cover of one of the media guides when I was there. Little bitty shorty looked cute then," Stallings added, pointing out "that was a joke.
"A lot has changed since then. Anyway it was recognized (at banquet in Maui). I recognize the role I played and it was very very less significant than the other head coaches in this tournament (Manning, Self)."
— See what people were saying about KU vs. UCLA during KUsports.com's live coverage
---
---
---
More news and notes from Kansas vs. UCLA
---
More like this story on KUsports.com