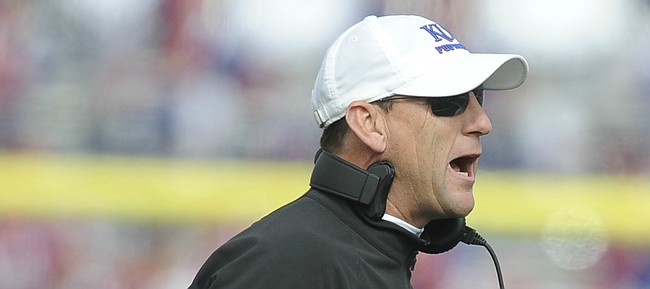 As Kansas University football coach David Beaty alluded to on more than one occasion Monday morning during his turn on the Big 12's weekly media conference call, all the Jayhawks have left in front of them is a "one-game season."
Although Saturday's Sunflower Showdown against rival Kansas State will only register either a single victory or a 12th loss for KU in Beaty's first season leading the program, the Jayhawks' regular-season finale at Memorial Stadium (3 p.m. kickoff, FOX Sports 1) has other ramifications.
Since arriving in Lawrence nearly a year ago, Beaty has emphasized the importance of his regime making a bigger impact in high school recruiting within the state of Kansas. Finding some way to defeat K-State (4-6 overall, 1-6 Big 12) would mark another significant step in attaining that goal.
"I mean, for us, this is such a pivotal game for our state," Beaty said, "trying to make sure that we're competing for the top recruits in the state, and there's nothing like winning that game. That says a bunch. So obviously that is a huge deal for both teams involved."
Losing 11 straight games doesn't make for an enjoyable process, as Beaty and his staff try to rebuild the Kansas football brand and catch up with the likes of Bill Snyder and Kansas State. But Beaty said his Jayhawks haven't lost faith in what they're doing as a result, and that makes the coach prouder than anything else.
"They're all-in. You know, we're not proud of the performance last week, obviously.," Beaty said of a 49-0 home loss against West Virginia. "That was not indicative of the progress we've felt like we'd made coming into that ball game."
The blowout defeat got away from the Jayhawks early, and Beaty said the team must "flush that one" and move on.
Senior defensive end Ben Goodman, a mainstay of KU's defense since becoming a starter in his sophomore season, said the WVU loss provided an easy reminder heading into the upcoming rivalry game.
"We didn't start fast on both sides of the ball," Goodman said Saturday afternoon, after KU fell behind by 28 points in the first quarter, "so next week we're just gonna have to start faster, make more plays. We started out (on defense) with a three-and-out, but things went downhill from there, and we just really couldn't get it going."
A difficult season, of course, would become a little easier to digest for the Jayhawks (0-11 overall, 0-8 Big 12) if they could upset Kansas State, and Beaty wants his players to embrace the fun of that challenge.
"There is no doubt it is a huge momentum-builder headed into winter conditioning and spring practice for next year," he said of the finale. "This is a very important game for us for a lot of reasons when it comes to the future of our program and the momentum going into it."
More like this story on KUsports.com