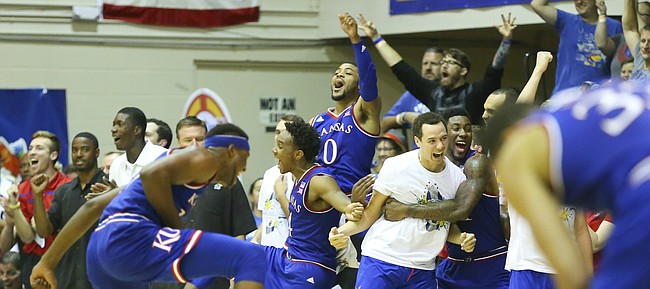 Lahaina, Hawaii — Scoring inside, outside and from the free-throw line, Kansas University's basketball team erupted for 123 points on Monday night in an 123-72 first-round Maui Invitational victory over Chaminade.
That's most points in a game by a KU team in the Bill Self era, sixth most in a contest in school history and most ever against an opponent on a neutral court.
"No. I could care less about that," Self, KU's 13th-year coach said, asked if such figures were of interest to him.
"I told our guys during the game I'd rather win 50-40 than give up that many points."
Photo Gallery
Kansas basketball v. Chaminade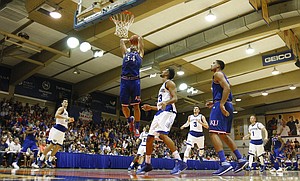 Images from Monday night's game between the Jayhawks and Silverswords during the first-round game of the Maui Invitational.
Why's that?
"Because that's not real," Self said. "You get into conference play in real games, you've got to string together five, six, seven stops in a row. We're not doing that consistently. When we make shots we relax," Self added.
Podcast episode
KU coach Bill Self on 51-point win over Chaminade and the latest with Cheick Diallo.
The Jayhawks' offensive onslaught — 15 threes made in 29 tries was good for second most treys in a game in school history, tying the performance in the season opener vs. Northern Colorado — certainly allowed KU's large contingent of fans to relax against occasional-giant killing Div. II Chaminade.
Soph guard Svi Mykhailiuk hit a career-best six threes in 11 tries and scored a career-high 18 points for a squad that had seven players score in double figures. The 51-point margin of victory tied for fifth-biggest rout in the Self era. And it was the biggest rout in the history of the Maui Invite.
"Svi was good. We need Svi to be aggressive especially over here," Self said. KU's perimeter depth has been hurt by Brannen Greene's six-game suspension.
"We need him to be one of our key players and go-to guys. He was tonight," Self added of Mykhailiuk.
Of junior guard Wayne Selden Jr., who hit four threes, scored 18 points and had seven assists, Self said: "Wayne is a huge key to our team. Wayne did some nice things. He had a couple bad basketball plays. I thought he played well. He made a couple shots, which was nice to see."
Guards Devonté Graham (15 points, three assists) and Frank Mason III (14 points, seven assists, six rebounds) joined the point parade.
Also, on the inside, Landen Lucas tied a career high with 13 points off 4-of-4 shooting and 5-of-6 free throwing; Hunter Mickelson contributed 11 off 5-of-5 shooting, Carlton Bragg tallied nine off 4-of-5 shooting and Perry Ellis 11 off 4-of-8 marksmanship.
"Our bigs, even though they (Silverswords) were small, at least we scored inside," Self said. "We didn't miss layups like we'd been."
It didn't take long for the Jayhawks to squash Chaminade's dream of knocking off a Top Five-rated basketball team. The No. 5-ranked Jayhawks, who led by just two points eight minutes into the game, doubled up the Silverswords, 36-18 at the 7:30 mark and led by 30 with 12 minutes left. It was a 12-0 run that turned a 24-18 lead into an 18-point advantage. Graham scored five points, Mykhailiuk three, Ellis and Lucas two apiece in the surge.
"Obviously we made shots. Everything looks better when you make shots," Self said. KU hit 64.4 percent to Chaminade's 34.8 percent.
"Chaminade is the type team if they get comfortable and score well early, which they did against us, gives them confidence and they can hang around. Our offense was good enough to keep them at arms difference. We started guarding them better as the game wore on."
KU had several highlight reel plays, including one wacky missed breakaway dunk by Selden, who had the ball rocked into the rafters and hit a flag at the top of the arena. Later, Selden had a vicious slam off a lob from Graham.
Also, Mickelson blocked a shot, dove for the loose ball and nearly had a steal, losing the ball after he hit the floor, the effort pleasing KU's fans in attendance. Mickelson played two minutes the first half; 10 the second.
"We were switching on ball screens. He can't guard those (smaller) guys out there," Self said. "That was the reason he didn't play a lot early."
The star of the game offensively had to be sophomore Mykhailiuk, whose previous scoring high was 11, which he'd hit three times.
"My teammates, Frank and Devonté were driving the ball well. I was getting open looks and making shots. If it's an open look it's a pretty easy shot. I just need to make it," Mykhailiuk said. "We knew they had a good team. They shot a lot of threes (33, hitting eight) and drove well. We tried to play defense. It was not good in the first half. We need to get better at that."
KU will play UCLA, a 77-75 winner over UNLV in Monday's finale, at 9 tonight.
— See what people were saying about the rout during KUsports.com's live coverage
---
More news and notes from Kansas vs. Chaminade
---
---
---
More like this story on KUsports.com