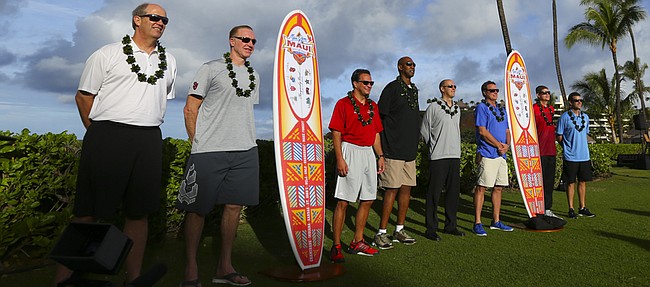 Lahaina, Hawaii — It's a big deal — front-page news of USA Today, the lead story on "SportsCenter" — on the rare occasion NCAA Div. II Chaminade knocks off a Div. I squad at the Maui Invitational.
Last time it happened was on Nov. 20, 2012, when coach Eric Bovaird's Silverswords tripped Texas, 86-73, at Lahaina Civic Center.
"That time period was one of the most exciting periods in my life, beating them. They were in the top 20. Nobody gave us much of a chance," Bovaird, now in his fifth year at the Honolulu school, said.
His Silverswords (0-2) will meet Kansas University (1-1) in a first-round Maui Invitational contest at 8 p.m. (Central time) today in Lahaina Civic Center.
Photo Gallery
2015 Maui Invitational coaches press conference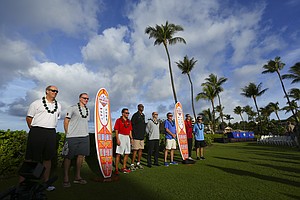 Kansas head coach Bill Self and the rest of the coaches from the 2015 Maui Invitational field meet with media members just off of Kaanapali Beach in Lahaina, Hawaii.
"It kind of changes your life a little bit," Bovaird added, "because a lot of people remember that for a long time. I get asked about it all the time. It's a special moment in my life."
And a low moment for former Texas coach Rick Barnes, who also lost to the Swords when he was at Providence. Chaminade also has knocked off the likes of Oklahoma, 68-64, in 2010 and defeated Villanova, Louisville and of course Ralph Sampson and Virginia throughout history.
KU is 2-0 all-time against Chaminade at the Maui Invitational, thumping the Swords, 89-62, in the first round in 1987 and again rolling, 102-54, in the seventh-place game in 2005.
"We're going to need a lot of luck and things to go our way to even have a chance to play with them," Bovaird said of KU. "They have 12, 13 guys who would all start for me. At the end of the year, I predict them to be in the Final Four for sure."
Actually, on paper, there is one way Chaminade could conceivably knock off the Jayhawks, who finished last week ranked No. 4 in the AP poll: by hitting threes.
Chaminade has attempted a whopping 64 threes, hitting 28 (43.8 percent) in its two games — losses to Alaska Anchorage (92-90) and Alaska (112-102).
"Every player on our team has the ability to shoot threes. That's how I recruit. We can't get the 6-(foot-)10 guys they (Jayhawks) have. We play a unique style," said Bovaird, whose tallest player is 6-9 Matt Southard, who hails from Norman, Oklahoma. He has played just four minutes all season.
KU coach Bill Self is not looking ahead to the likelihood of playing UNLV or UCLA in a second-round winners-bracket game at 9 p.m. Tuesday.
"They definitely throw it up there fast and play fast," said Self, noting Chaminade averages 96.0 ppg to its foes' 102.0.
KU junior forward Wayne Selden Jr. said the Jayhawks will respect a Chaminade program that is 7-84 all-time at the Maui event. KU is 11-6 in five previous trips to the Invitational, winning it in 1996.
"We're not going to take them lightly," Selden said. KU is coming off Tuesday's loss to Michigan State, which followed a win over Northern Colorado. "I feel like, if they are on the schedule, we know we are supposed to play them, and we're not going to take anybody on the schedule lightly."
Vick to get playing time?: Freshman Lagerald Vick figures to net some perimeter minutes, especially with Brannen Greene out six games due to suspension.
"Whether he's ready or not, he's going to be out there," Self said. "He has to play in goggles, which has him totally messed up right now because of a scratch to the eye, the reason he didn't play against Michigan State. I think he can help us. He's excited to have that opportunity. We need that from a depth situation, but we will play Perry (Ellis, forward) some at 3."
Self on playing three games in three days: "Obviously conditioning will be a huge factor. Depth will be a factor. It's a grind. It should be a grind. Things like cramping. I think it'll be important how guys take care of themselves while over here. Everyone who has been over here has had players experience this (cramps)."
This, that: Self said he'd start the same group of Graham, Selden, Ellis, Frank Mason III and Jamari Traylor. ... Self hit one of three free throws in the annual tourney free-throw contest. UCLA's Steve Alford didn't miss. ... The Jayhawks attended a luau Saturday night. "It was one of the best luaus I've ever been to," Self quipped. "It was fine. I think it's good when you get all the teams there. They (Jayhawks) can see the guys from other teams. I think it gets their competitive juices flowing a little bit."
Maui Invitational
Monday's Games
1:30 p.m. — St. John's vs. Vanderbilt (ESPN2)
4 p.m. — Wake Forest vs. Indiana (ESPN2)
8 p.m. — Kansas vs. Chaminade (ESPNU)
10:30 p.m. — UNLV vs. UCLA (ESPN2)
Tuesday's Games
Consolation Semifinals
1 p.m. — St. John's-Vanderbilt loser vs. Wake Forest-Indiana loser (ESPN2)
3:30 p.m. — Kansas-Chaminade loser vs. UNLV-UCLA loser (ESPN2)
Semifinals
6:30 p.m. — St. John's-Vanderbilt winner vs. Wake Forest-Indiana winner (ESPN)
9 p.m. — Kansas-Chaminade winner vs. UNLV-UCLA winner (ESPN)
Wednesday's Games
Seventh place: 1:30 p.m. — consolation semifinal losers (ESPNU)
Fifth place: 4 p.m. — consolation semifinal winners (ESPN2)
Third place: 6:30 p.m. — semifinal losers (ESPN2)
Championship: 9 p.m. — semifinal winners (ESPN)