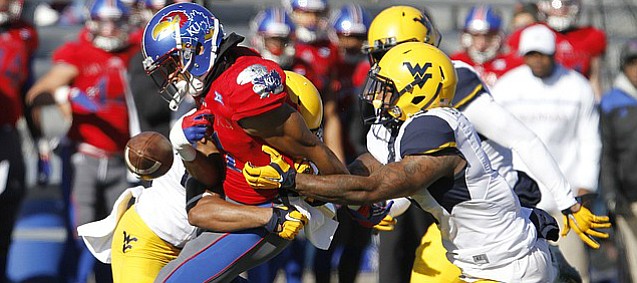 Kansas University so seldom wins a Big 12 football game that when it does, the stink of defeat for the opponent on linger for years.
"That stung to lose to them a couple of years ago," West Virginia senior cornerback Terrell Chestnut said, referencing Charlie Weis' lone Big 12 victory, 31-19, in 2013 in Memorial Stadium.
Clearly, Mountaineers coach Dana Holgorsen used the embarrassment of losing to Kansas as a motivational tool in preparation for Saturday.
"Obviously, it was important for us to rectify what happened two years ago," Holgorsen said.
Obviously.
"So a lot of our guys took that to heart, attacked, and we looked really good," Holgorsen added. "I woke up this morning and told them to be at our meeting at 6:45 and they were all bright-eyed at 6:30, so we started 15 minutes early."
Podcast episode
KU football coach David Beaty on the Jayhawks' 49-0 loss to West Virginia
The Mountaineers (6-4 overall, 3-4 in Big 12) looked just as eager to get the game started. They rushed for 198 yards in taking a 28-0 first-quarter lead and expanded the lead to 42-0 at the half. For the game, the Mountaineers rushed for 426 yards.
"It had nothing to do with Kansas," Holgorsen said of the loss to KU two years ago. "I had everything to do with us. Our inability to handle that situation two years ago, it meant a lot to our team to come here and play well. ... If there was ever a situation where we didn't come ready, this would be it. It was cold, windy, and all that stuff, but our guys didn't care, ignored that, and did what they needed to do."
Once and for all, West Virginia senior defensive lineman answered the question of whether a college football game ever would be played without a coach or player from the winning team giving credit to the losing team and the answer is no.
"Kansas plays with a lot of effort," Rose said. "Credit to them for a program that's 0-11. That doesn't look like an 0-11 team to me. Credit to those guys."
— See what people were saying about the game during KUsports.com's live coverage.
More news and notes from Kansas vs. West Virginia
---
More like this story on KUsports.com