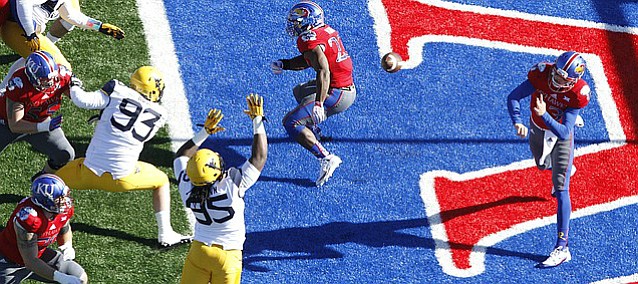 Whatever momentum the Kansas University football team generated a week earlier in a one-score road loss to TCU didn't make the trip back to Lawrence with the winless Jayhawks, who suffered a 49-0 loss to West Virginia Saturday at Memorial Stadium, in front of an announced crowd of 21,415.
Before KU could as much as give the fans who showed up for the chilly penultimate home game anything about which to get excited, the Mountaineers had taken the ball away twice, and built a 14-point cushion less than five minutes into the blowout, which marked WVU's first shutout since joining the Big 12 in 2012, as well as the first time in a difficult season that Kansas failed to at the very least score a point.
After the Kansas defense opened the game by forcing the Mountaineers (6-4 overall, 3-4 Big 12) into a three-and-out, the offense didn't do first-year coach David Beaty and the team any favors.
On KU's second play from scrimmage, true freshman quarterback Ryan Willis connected with senior wide receiver Tre' Parmalee for a 23-yard gain over the middle. The problem was Parmalee fumbled the ball just after hauling it in, and WVU junior defensive back Jarrod Harper snagged it off the turf, setting the tone for the Mountaineers' four-takeaway day.
Five plays and 63 yards later, West Virginia junior running back Rushel Shell crossed the goal line for the first of his team's five rushing touchdowns (WVU averaged 7.7 yards a carry and ran for 426 yards).
Podcast episode
KU football coach David Beaty on the Jayhawks' 49-0 loss to West Virginia
"From that point forward," Beaty said of the opening possession, "the wheels kind of fell off."
Indeed. KU's second series lasted all of two plays, and shortly after Willis released his third pass of the game, WVU senior corner Terrell Chestnut closed in, picked it out of the air and went 32 yards the other direction for a 14-0 lead.
KU's disastrous first two possessions set the stage for a long and brutal day for the offense, which got out-gained 630-221 in total yardage.
With 11:15 left in the first quarter, Beaty said he called the offense over and made it clear those mistakes shouldn't cost KU the game, and they had to regroup and move forward.
The Jayhawks (0-11, 0-8), however, couldn't follow the coach's lead.
"There was plenty of time left," Beaty said of the early hole. "There's no excuse there. We didn't do a good enough job of stopping the bleeding ourself there, and that's our fault."
While WVU added to its lead, going up 28-0 in the first quarter, and 42-0 by halftime, KU's offense sputtered. The Jayhawks' only first down came courtesy of a Mountaineers penalty (defensive holding on Kyle Rose in the first quarter) and KU's offense netted just 59 yards in the first two quarters, which featured seven three-and-outs — six in a row to close the half.
Said senior running back Taylor Cox, who rushed for 28 yards on a team-leading 10 carries: "Obviously you want to move the ball on offense. That's the ultimate goal."
The awful start, junior KU tight end Kent Taylor added, sucked the life out of the offense, and the Jayhawks failed to respond appropriately.
"Obviously our defense is out there trying to get stops," said Taylor, who provided KU with its first legitimate first down of the game on a 27-yard catch in the third quarter, "and we're just going three-and-out. It's tough for them, because they've gotta go right back on the field, which is tiring. We've gotta do a better job of sustaining drives and stuff like that."
West Virginia finished the drubbing with 20 more first downs than KU (10) and 10 three-and-outs on 17 drives (four of those ending with turnovers). Beaty called the offensive ineptitude disappointing and repeatedly pointed the finger at himself and the KU staff.
"That's about as bad of offensive football as I've been a part of, and that's on me," Beaty said. "We've gotta figure out a way to manufacture offense around here, because right now it hasn't been getting done."
Willis completed just 13 of his 37 throws in the loss, and had two intercepted, before watching the final two possessions of the fourth quarter from the sideline, as backup T.J. Millweard, a junior, finished the game (and also threw an interception to junior corner Nana Kyeremeh).
Senior KU running back De'Andre Mann had 49 rushing yards, but 29 came on one fourth-quarter carry against WVU backups.
"You know," Beaty said, "that was a disappointing performance by us and it's one that we can't afford to let happen again."
Maybe more troubling than anything for the Jayhawks, they looked nothing like the team that hung around until the final possession in a loss at TCU the week prior.
Sophomore linebacker Joe Dineen, who set a new career high with 16 tackles (all solo) said it was difficult to carry over momentum from KU's 23-17 loss.
"It's disappointing when you expect to come out and have the same performance, and then that doesn't happen," Dineen said. "It hurts a little bit. But you've gotta try to stay positive in those situations and keep playing."
Senior safety Michael Glatczak, who picked off the first pass of his career in the defeat, said Kansas failed to show the same competitiveness it displayed in its previous game.
"We've just gotta do better than that, focus wise," the 5-foot-10 defensive back said. "I felt like we had a good week of practice. Last week we were that close to wining the game."
Instead, Beaty said the Jayhawks didn't seize the moment against West Virginia after the defense opened the game on a positive note.
"And for some reason, things went south really quick," the KU coach said, "and it took us a while to stick our foot in the ground — if we ever did."
Beaty and Kansas get their last shot at a 2015 victory at 3 p.m. Saturday, against rival Kansas State, back at Memorial Stadium.
Said Taylor, after yet another disappointing KU showing this fall: "You want to build week by week, and I feel like in this game we might've taken a step back, but that happens. We'll come back next week and work hard and be ready for K-State."
— See what people were saying about the game during KUsports.com's live coverage.
More news and notes from Kansas vs. West Virginia
---
More like this story on KUsports.com