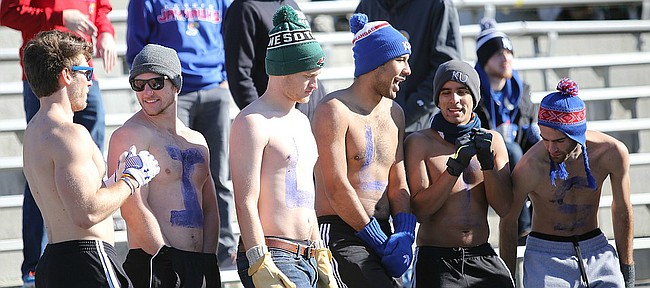 It's not easy watching a winless football team. But a group of seniors do their best to make the most of it.
During Kansas University's 49-0 loss against West Virginia on Saturday at Memorial Stadium, a group of six students continued to cheer shirtless in the front row of the student section, with W-I-L-L-I-S painted across their chests, despite the 36 degree temperature and gusts of wind.
Some fans headed to the exits early with the Mountaineers jumping to a big lead. This group didn't budge.
It's a tradition they started during their freshmen year when they lived together on the sixth floor of Ellsworth Hall. Through all of the years — and losses — they haven't changed anything up. Now seniors, the tradition remains the same.
"Pretty much, KU football games weren't that exciting," said Keaton Prather, from Sterling, who brought up the idea during their freshmen year. "Like, 'Let's just paint up and do something. Something to keep it exciting.' That's kind of the same reason we do it now."
Podcast episode
KU football coach David Beaty on the Jayhawks' 49-0 loss to West Virginia
As long as it's not snowing outside, the group cheers without shirts. Each game they will find a different word to paint across their chests.
"It's just fun," said Bryce Platt, from Horton. "It's good to get together with these guys. It's the only time I see them actually. It's good to support the team. Not many people left, especially now."
Prather and Platt combined with their friends Preston Sycks, Dakota Hamelund, Evan Traylor and Alvaro Papa to spell out freshman quarterback Ryan Willis' last name on Saturday. Hamelund was the only one not a part of the original dorm group, joining them last year.
Freshman year, they found a lot of people to help spell out "University of Kansas," and last year they spelled out former linebacker Ben Heeney's last name, complete with fake beards.
"When you signed up for housing (freshman year), I knew the sixth floor was supposed to be the honors floor," said Sycks, from Rochester, Minnesota. "So most of us are in the honors program. You might not be able to tell right now."
For this group, the games are about more than just watching their school's football team. It's a chance to bond and create memories together.
"It's kind of cool to have something to bring us together once a week," Papa said. "We're all in mainly different majors and things so we don't see each other on campus anymore. So having this opportunity, even though the quality of football isn't that great sometimes, is something that can bring us all together."
— See what people were saying about the game during KUsports.com's live coverage.
More news and notes from Kansas vs. West Virginia
---
More like this story on KUsports.com