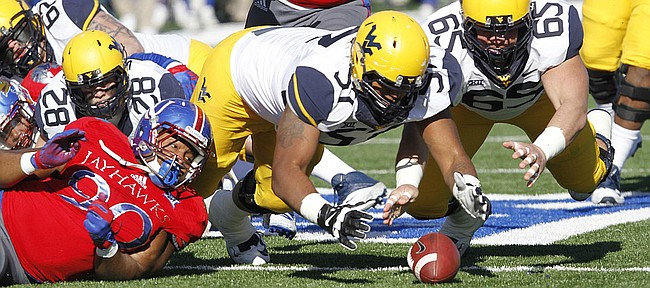 Not all Big XII entertainment derives from the top half of the loaded football conference's standings. Sometimes it's amazing what you can find rummaging around in the basement too.
For example, former Kansas University football coach Mark Mangino was at the center of a Twitter explosion by doing nothing more than typing one sentence and then retweeting every response, no matter how derisive of him, to it.
Around the same time West Virginia was wrapping up a 49-0 blasting of winless Kansas, Iowa State coach Paul Rhoads' team had blown a 10-point lead in the final 90 seconds to lose to Kansas State, 38-35. Had Rhoads instructed his quarterback to take a knee three times with 91 seconds left and K-State down to one timeout, it's doubtful the Cyclones could have found a way to lose.
Rhoads, you might recall, fired Mangino as his offensive coordinator in midseason. What nobody in the Twitter fire seemed to remember was that later that week, Rhoads during a halftime interview en route to a 24-0 victory vs. Texas mocked Mangino by saying that the team just needed to "keep sawin' wood."
Rhoads, apparently, never was told not to poke a Bear because Mangino exacted his revenge by tweeting Saturday, "There is no doubt at all... The Fat Lady is singing!"
Podcast episode
KU football coach David Beaty on the heartbreak of KU's close call vs. TCU.
Rhoads' pet two-word combo is "no doubt." Did Mangino mean the fat lady had sung on Rhoads' tenure at Iowa State? That's the obvious inference.
The fact that Mangino's son, former Lawrence High quarterback Tommy Mangino, is Rhoads' wide receivers coach added gasoline to the bonfire. Twitter nation, forever cloaked in class and dignity, was aghast that Mangino could put his son in such a pickle.
Fans from Iowa State and Kansas State unloaded Twitter ire on Mangino, whose account, presumably run by him, responded by retweeting every one of them.
Rhoads failing to instruct his quarterback to take three knees reminded me of one of Mangino's more memorable quotes, uttered his last day on the job: "I'd rather die on my feet than live on my knees."
Mangino was quite good at saying nothing when he felt like it, famously once turning to a radio host before the start of a half-hour show and saying something close to, "Don't ask me any questions about my team and don't ask me anything about the opponent."
That pretty much left a half-hour discussion about the weather, unless of course the forecast could impact the gameplan, in which case that was out too. But when Mangino went off script, look out! In the wake of losing to Texas on a controversial call, Mangino snapped, saying, "That's right. BCS. That's what made a difference in the call in front of their bench. Dollar signs."
That led to then next-door neighbors Mangino and former KU athletic director Lew Perkins meeting for cigars that night with Perkins explaining the serious implications of making such an accusatory statement aimed at game officials.
In case you haven't figured it out yet, I'm looking for reasons to stall in getting to writing about the game I just watched in Memorial Stadium. It was tough enough looking at it, especially with the unsightly backdrop of empty aluminum bleachers mounted on aging concrete. So let's fast-forward to next week, but stay on the topic of Big 12 basement-dwellers Kansas State and Kansas.
Since K-State stormed back from a 35-14 halftime deficit to stun Iowa State and prompted Mangino to toss a hand grenade into the middle of Twitter — always a calm, reasoned place — the season still has meaning for the Wildcats. They can gain bowl-eligibility with road victories in Lawrence and Morgantown, West Virginia.
Given that and that it's only an 85-mile drive from Manhattan, it's worth pondering which school will have more fans in the stands for Saturday's 3 p.m. kickoff, a season finale for Kansas. And: Would the game be a sellout if Mangino and Rhoads engaged in a cage match at halftime?
Kansas sophomore linebacker Joe Dineen, unquestionably was the team's best player Saturday, logging 16 solo tackles, a quarterback hurry and a pass breakup. Before he played for KU, he rooted for them.
I asked him to put himself back into the shoes he wore as a KU fan and give an honest answer as to whether he thinks KU fans will show up Saturday in greater numbers than 'Cat backers.
"I hope so," Dineen said. "I definitely would show up because it's a rivalry game. Records are kind of thrown out the window in rivalry games. We're 0-11, and if we win this game it will make our season. This would be huge for us, and obviously we want all the support we can get from the fans."
I asked head coach David Beaty if he thought Kansas fans had it in them to look past 0-11 and show up in big numbers Saturday.
"I certainly hope they will," Beaty said. "I think we have the greatest fans on the planet, bar none. We do. The Jayhawk Nation, they deserve better than what we're giving them right now. I would ask them to value the rivalry next week, show up, be there for us. You are literally the magic, and we need you there next week. It's going to be a great environment. It always is. So we need them."
Kansas certainly has great basketball fans, and consistently rewards them with an excellent product. It will be interesting to see how much fight the Kansas football fans have left in them for a day in which the school is in danger of completing its first winless football season since 1954 (0-10).
— See what people were saying about the game during KUsports.com's live coverage.
More news and notes from Kansas vs. West Virginia
---
More like this story on KUsports.com