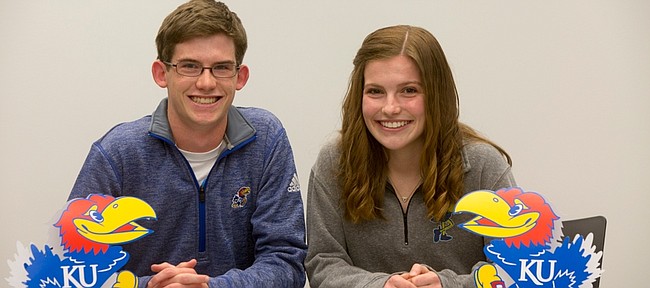 For the past three seasons, Free State High's cross country teams have consistently been among the best in the state.
Two of the big reasons for the annual success were the performances from Free State seniors Ethan Donley and Claire Sanner. The two seniors made a step toward the next level on Tuesday, signing their letters of intent to run cross country and track for Kansas University.
Donley finished third at state this season, helping the boys team to sixth place. He ran a school-record time at regionals (15:49.0), and after the season ended, he ran a season-best 15:34.0 at the Nike Heartland Regional in South Dakota last weekend, finishing in 11th place.
Donley was always a solid runner, but he transformed into an elite runner during track last spring. He won a Class 6A state championship in the 800 meters and was 10th in the 1,600 meters. Free State coach Steve Heffernan said he noticed a difference in Donley after a meet at Topeka Seaman.
"He ran the mile, and he came up and he was kind of lamenting how much work (the race was)," Heffernan said. "But he didn't know how fast he ran. Then after he found out he ran about a five- or six-second (personal-record) in the mile, then all of sudden it was like a light turned on."
Donley, who started running in the first grade, has strong ties to the sport. His mother, Julie, ran in the 1992 Olympics in Barcelona. His father, Milan, coached his mother in the Olympics and is now the Kansas Relays meet director and event coordinator for KU's home cross country and track meets.
It was an official visit to KU in September that sold Donley on choosing to run at Kansas.
"I was just, like, 'This is definitely where I want to be. I definitely feel comfortable being here,'" Donley said. "It felt right."
Sanner didn't run cross country this season after suffering a stress reaction in her hip during track last spring. She helped the Firebirds to a state title in 2013.
A two-time state medalist in cross country, Sanner took sixth place in the 3,200 meters in track as a freshman (11:35.88) and third as a sophomore (11:06.39). She also took seventh in the 1,600 meters in her sophomore season.
"When I first met Claire, I realized almost immediately that she is maybe, arguably, the most dedicated runner I've ever met," FSHS distance coach Kiah Mattson said. "She sticks to her running plan. She's very particular with it. I remember we'd always be, like, 'Claire, go do something fun this weekend.' She said with a big smile on her face, 'Running is fun.'"
Sanner has slowly progressed from her hip injury and said she expects to run in the upcoming track season. She chose the Jayhawks over offers from Baylor, Minnesota and Texas Christian.
"Of all the schools I looked at, I felt most comfortable with the coaches and my future teammates and just the direction of the program was going at KU," Sanner said. "It felt like it was the best fit for me."
More like this story on KUsports.com