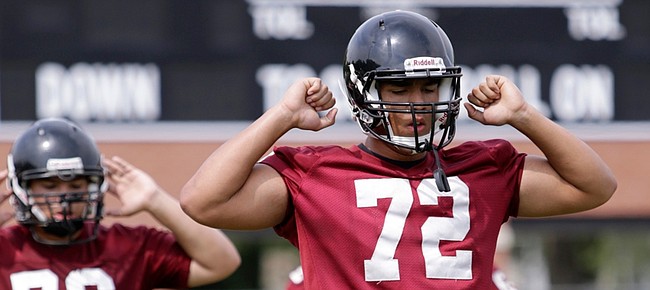 Not much short of a perfect storm of events must fall together for Kansas University's football program to land a nationally elite recruit on the wish list of perennial powerhouses.
The more I think about it, the more I believe that Kansas has a legitimate shot at landing Lawrence High senior defensive end Amani Bledsoe, the top local football recruit in decades. A variety of factors play into that belief.
For one thing, word of mouth from Kansas football players in their first year under David Beaty's staff is strong, both off the record and on the record. Players give the staff high grades for instructing them in a way that leads to improvement. They like the way coaches treat them, pushing them hard but never demeaning them. They also like the personalities of the recruits they pursue, staying away from troublemakers who can grow into divisive forces eroding team unity.
For another, Bledsoe would not have to wait a couple of years to earn immediate playing time. Players who get game reps to break the monotony and to increase their knowledge on situations more likely to pop up in games than practice improve at a more rapid rate.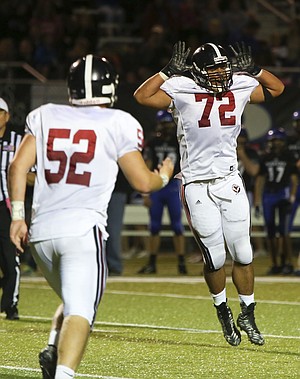 "Game reps are very important," KU senior defensive end Ben Goodman said. "In practice, you practice situations, but games, those situations come to light. In practice you might miss a tackle, and you have a chance to make it up. In games, you don't. So game experiences makes you focus. The more game reps, the better."
Those would be available to Bledsoe from the start.
Kansas defensive-line coach Calvin Thibobeaux's reputation as an elite instructor who knows how to teach linemen to get to the quarterback also should help. Like his KU predecessor Buddy Wyatt, Thibodeaux builds strong relationships with his players, which enables him to push them hard because they know he cares about them.
"He really is a great teacher," Goodman said. "He focuses on rushing the passer. I learned a lot from coach Wyatt, and coach Thibs helped me to elevate my game to another level. He keeps pushing, pushing, pushing for greatness."
If Bledsoe were to sign with KU, the Jayhawks' two best prospects would be defensive ends, teaming for three seasons, with Bledsoe flying off one edge and Dorance Armstrong off the other. That can change the identity of a defense quickly.
Not speaking of any specific recruit, I asked KU defensive coordinator Clint Bowen if having Armstrong at one D-end spot would make it easier to recruit another.
"Absolutely," Bowen said. "If you only have one, then teams can chip him with a running back, put a tight end over him, slide protection to him, do a lot of different things. When you have two, it eliminates a lot of opportunities for an offense to help on a special pass rusher."
Finding an elite athlete to twin with Armstrong could be the start of something big, especially if KU could land a pair of game-ready burners at cornerback.
"If you can get those cornerstones of a defense, two guys who can rush the quarterback and two guys who can cover on the outside, it definitely changes the game for you," Bowen said. "When you can get pressure on the quarterback with two people consistently, and you can lock up on the outside and take two receivers away with your corners, those are the cornerstones that you always like to have. That's why you see in the NFL those are the guys you see getting money on defense. Those are the two spots that everyone wants. It would be nice. Pass-rush guys are a premium."
At linebacker, Marcquis Roberts has one year remaining, Joe Dineen two, Baker transfer Keith Loneker Jr. three. Goodman is the lone major loss on defense after this season, so it's easy to see improvement on that side of the ball coming rapidly. If Bledsoe came to KU, he could play a significant role in filling the stadium by making the team more competitive. That would have to fill an athlete with pride, especially doing it in the same city where he played high school football.
Goodman played along when asked to put himself in the shoes of a defensive end being wooed by the current KU coaching staff. Again, I did not mention the name of any specific recruit.
"Playing with Dorance would excite me," Goodman said. "You have another defensive end who's young and who's going to be good in the future. So that would give me confidence to come here.
"And another thing that would excite me coming out of high school is, you're seeing that they're not scared to play a freshman, they're not scared to play young guys. You'd probably feel like you'd have a great opportunity to play early."
Goodman spent one season as a red shirt under Turner Gill, 2 1/3 seasons playing for Charlie Weis, two-thirds of a season under Bowen when he was interim head coach and is playing for Beaty his senior season.
"I was looking for a good education, a big-time program, a nice conference to play in," said Goodman, a native of Beaumont, Texas. "If I could go back, I would not change the school, but I think I would tell people to look for a coaching staff that's stable, that's probably going to be around for a minute. I went through a lot of changes, four different head coaches, if you include Clint.
"I'd just tell them to look for a stable coaching staff that's going to be here for a while. This coaching staff is definitely going to be here for a while and be stable."
Bledsoe, who spent much of his youth in Wichita, has no shortage of attractive offers, including Baylor, Missouri, North Carolina State, Oklahoma, Oregon and UCLA. But for many Kansas standouts from the past — Nolan Cromwell, John Hadl, David Jaynes, Brandon McAnderson, Kerry Meier, Nick Reid, John Riggins, Otto Schnellbacher, Jake Sharp, Oliver Spencer, Darrell Stuckey and John Zook among them — there was no place like home.
Don't count me as one of the shocked if Bledsoe has the strength and smarts to see negative recruiting aimed at a football program struggling to get off the deck for what it is: selfish manipulation by desperate coaches telling an athlete whatever they think they need to tell him to get him to suit up for them.
More like this story on KUsports.com