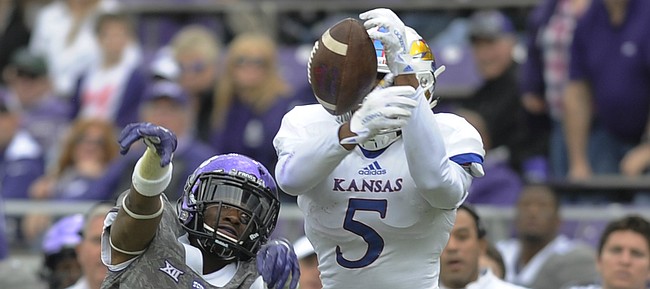 Fort Worth, Texas — In sports, as in life, you just never know when an opportunity for something unexpected is going to come your way.
For the winless Kansas University football team, that day was Saturday, in front of 44,375 fans at Amon G. Carter Stadium, where the Jayhawks made 13th-ranked TCU sweat deep into the fourth quarter before falling, 23-17.
Entering Saturday's mismatch, many expected to hear repeat calls of touchdowns from Heisman Trophy hopeful Trevone Boykin to the nation's leading receiver Josh Doctson. It never happened. TCU's quarterback left the game with an injury in the second quarter, and Doctson, who was questionable this week after injuring his left wrist in last week's loss at Oklahoma State, played but finished with just one reception for 12 yards.
"He's a Heisman candidate, so you're absolutely going, 'Wow,'" said KU coach David Beaty of Boykin's departure. "I thought (our defense) played one play at a time really well today. They gave up some big runs and they were able to get those guys off the field without scoring touchdowns.... That helped us stay in the game enough to be able to win it."
Podcast episode
KU football coach David Beaty on the heartbreak of KU's close call vs. TCU.
It wasn't until a pair of red-shirt freshman hooked up for TCU's first offensive touchdown of the day with 11:51 to play in the fourth quarter that the Horned Frogs truly looked comfortable.
Taking advantage of a gassed Kansas defense that had played above its head all afternoon, third-string quarterback Foster Sawyer hit wide receiver Shaun Nixon with an easy pass over the middle on second-and-six. The speedster from Austin, Texas, juked Fish Smithson and outran Joe Dineen for a 42-yard TD that put the Frogs ahead 20-10.
The game was not over at that point and the Kansas defense did not stop playing. But on a day when the offense struggled, and, perhaps more importantly, failed to give the surging KU defense much rest, it was evident that Nixon's TD was the uppercut to KU's steel jaw.
Nixon's TD put the Horned Frogs (9-1 overall, 6-1 Big 12) up by two scores and put the game just enough out of reach for upset-minded Kansas to fall short.
Not that the Jayhawks (0-10, 0-7) realized it at the time. After another red zone stop by the Kansas defense led to just three points — KU held TCU to a 7-of-21 conversion rate on third and fourth down — freshman quarterback Ryan Willis (20-of-41 for 203 yards) and the KU offense responded to the double-digit deficit with its best drive of the game, a 10-play, 77-yard march that was capped by a smooth pitch-and-catch from Willis to Tyler Patrick on fourth-and-five from the TCU 10-yard line. That pulled KU to within 23-17 with 6:19 remaining and set the stage for a tease-filled finish.
The Jayhawks said the thoughts of Saturday possibly being their day surfaced as early as the pre-game and only grew as the afternoon progressed. Beaty said the locker room was electric at halftime and several Jayhawks said they could not wait to get back onto the field for the final two quarters.
"It is in the back of your mind," said Dineen of KU feeling like fate was on its side. "And it's almost a confidence boost because you know you can play with them. What we did was working."
Playing most of the second half with third-string QB Sawyer, the TCU offense went three-and-out on its final three drives of the day. That ineptitude left the door wide open for Kansas to pull off what, in the context of the 47-point spread, would've been the largest upset in college football history. But the flame carried by Kansas merely warmed the Horned Frogs' skin and never burned them.
"We played a pretty good game," said KU senior Ben Goodman, who finished with eight tackles and a sack. "We were consistent. If you don't count the punt return (by KaVontae Turpin that opened the scoring), we held 'em to one less than we scored. It's still not enough, though. We've gotta hold them to one less than what's on the scoreboard."
Saturday marked the second time in Big 12 play this season that KU gained possession and was within one score inside the final five minutes. On the first occasion, during a 30-20 home loss to Texas Tech in mid-October, Ryan Willis threw an interception that sealed KU's fate. This one ended in similar fashion, with Willis under-throwing a pass down the seam to Ke'aun Kinner after KU took over at its own 48 with 1:54 to play, down by six. TCU linebacker Ty Summers intercepted the floating pass and KU's golden opportunity was gone.
"We're in really good position and we just make a mistake there," Beaty said. "You either make the play or you don't. But our defense bowed their neck, stopped 'em again and gave us another chance offensively. We just weren't able to go do anything with it.... Those are the plays that separate the wins and losses in games and we gotta make 'em."
Added KU running back Taylor Cox, who scored KU's first TD on a three-yard run early in the second quarter: "Whenever you're in those situations, I feel like that's what college football is all about. You're down by a score and you're going on a game-winning drive. All of our guys were hyped and, obviously, it didn't turn out the way we would've liked it."
That was the biggest takeaway from Saturday's game, KU's 38th consecutive setback away from Lawrence. The effort was better. The Jayhawks were close. And their confidence for the final two games of the season might be sky-high. But those facts can't hold a candle to what an unexpected victory against a most improbable opponent would have meant for this program, this coaching staff and these seniors.
"When you lose, it always hurts, especially when you're in it to the end and you're fighting and all the guys are sacrificing their bodies," Cox said.
Added Beaty: "Man, that was fun. That was a lot of fun. Great college football game. We're not gonna miss having fun in those situations, but you gotta come out with a win." 
— See what people were saying about the game during KUsports.com's live coverage.
---
More news and notes from Kansas at TCU
---
More like this story on KUsports.com