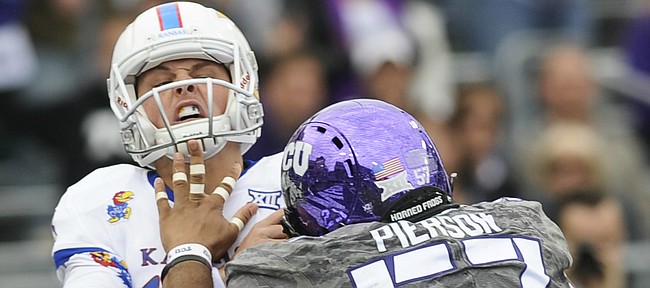 Fort Worth, Texas — He limped out to the bus with a grimace on his face and ice on his body. But there was never a thought about yanking him from Kansas University's 23-17 loss at TCU on Saturday.
That's just not the way KU's true freshman quarterback Ryan Willis was taught to play the game he loves. After taking a second consecutive week of suffering beating after beating, Willis finished the game 20-of-41 passing for 203 yards, one touchdown and one interception.
"He's in a bunch (of pain) now," Beaty said of his QB. "He was in a bunch from pre-game going on. We had to do some things a little differently because he wasn't able to move as well. Every time he took off running, you'd have to be blind not to see how bad he was hurting.... He's a tough dude, man. That ol' boy didn't tap out."
Podcast episode
KU football coach David Beaty on the heartbreak of KU's close call vs. TCU.
Not his best game in terms of statistics or the eye test, Willis did enough to keep Kansas in the game. His lone touchdown came with the Jayhawks facing a knockout blow, a fourth-down pass to Tyler Patrick for a 10-yard TD with 6:19 to play.
Wyman's big day
After his second punt of the afternoon hung low in the air and led directly to TCU's first score of the afternoon, KU junior Matthew Wyman turned things around and had a monster day to help the KU defense.
"I thought Wyman played a great game," Beaty said. "He's handling all the kicking duties now, and he played his tail off. I really was happy with his play."
Wyman, who just a few weeks ago was inserted as Kansas' first-string punter, averaged 43.4 yards per punt on 11 attempts, including a long of 53 yards and two downed inside the 20. Perhaps more important than any of the numbers was the fact that, after that early failed attempt turned into a touchdown, Wyman did a masterful job of keeping the ball out of the hands of dangerous return man KaVontae Turpin, who finished with -6 yards in punt returns the rest of the day after taking the early one back 49 yards for the TD.
"There was a big coverage breakdown," explained Beaty of Turpin's TD. "That's a shame, because we've done a nice job covering kicks. That one (was) very frustrating to watch because that's the difference in the game."
This and that...
The Jayhawks lost Saturday's opening coin toss but elected to receive the opening kickoff after TCU deferred its choice to the second half... KU is now 0-24 against Top 25 foes dating back to a win over No. 15 Georgia Tech in 2010.... TCU's 23 points tied a season low and the Frogs' 487 yards of offense snapped a streak of eight games in a row in which the KU defense had allowed 500 yards or more to its opponent.... Senior defensive end Ben Goodman played in his 45th career game at Kansas, tying him for seventh most all-time in games played by a Jayhawk.... Temperature at kickoff was 63 degrees, under cloudy skies with winds of 11 mph out of the southeast.
— See what people were saying about the game during KUsports.com's live coverage.
---
More news and notes from Kansas at TCU
---
More like this story on KUsports.com