Miami — Mario Chalmers and Memphis are linked again.
Best known in college for helping Kansas University beat Memphis in the NCAA championship game, Chalmers was traded by Miami to the Memphis Grizzlies on Tuesday in a four-player deal that helps the Heat move closer to escaping would be a very punitive tax bill after the season. The Heat also sent little-used forward James Ennis to the Grizzlies, who gave up point guard Beno Udrih and power forward Jarnell Stokes in the deal.
"Rio can hold his head high, leaving on a great note here," Heat coach Erik Spoelstra said. "He'll always be remembered as a two-time champion point guard here in Miami, welcomed in Miami from here on out."
The trade ends months of questions about the status of Chalmers, an eight-year veteran and the starting point guard on the 2012 and 2013 NBA title teams in Miami. His contract seemed one of the most likely candidates to be moved in Miami's quest to escape the repeater tax and have maximum flexibility on the free-agent market next summer.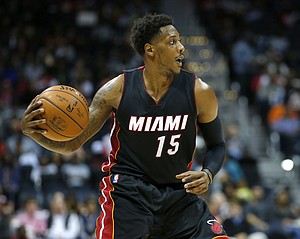 The trade doesn't get Miami under the tax line, but moves the Heat significantly closer.
"This is a move we feel good about," Spoelstra said. "We feel good about who we're acquiring."
Chalmers was averaging 5.5 points on 31 percent shooting this season for the Heat, and Ennis had been scoreless in seven minutes of action. Udrih averaged 5.9 points in eight games with the Grizzlies, and Stokes was scoreless in four minutes off the bench.
With Chalmers as a starter, including playoffs, the Heat went 292-164. He had many memorable nights with the Heat, including a 25-point effort in Game 4 of the 2012 NBA Finals when Miami took command against Oklahoma City en route to the title, and a 2013 game in Sacramento when he made 10 three-pointers and finished with a career-best 34 points.
But his biggest shot may still be the one in the final seconds to force overtime in the 2008 NCAA title game, when he and Kansas defeated Derrick Rose and Memphis.
"I always get booed there," Chalmers said before the Heat went to Memphis last season. "Always."
That may change now.
More like this story on KUsports.com