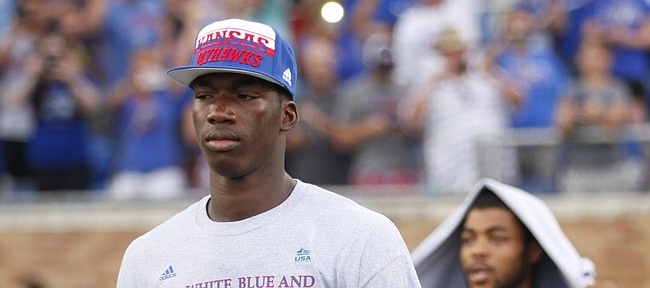 Don Jackson, the attorney who is representing the guardian of Kansas University freshman basketball forward Cheick Diallo in Diallo's eligibility case with the NCAA, said Wednesday that he is confident Diallo will play for the Jayhawks this season.
"I think his chances of playing for Kansas this year are excellent," Alabama-based attorney Jackson said to Kansas City 610 Radio, acknowledging there are two components to this case — initial academic eligibility of Diallo as well as possible amateurism violations regarding Diallo's legal guardian, Tidiane Drame.
"There's no reason as to why he wouldn't (play in games). I think that's almost a certainty. A timeline? That will be determined over the next day or so. Candidly, at a certain point, when it becomes quite clear that all administrative possibilities have been exhausted, then legal action becomes more of a possibility," Jackson added.
Yes, Jackson may file a lawsuit — if he has to — to get Diallo eligible. The Mali native has yet to be deemed academically fit to play by the NCAA Eligibility Center.
"My goal is always to resolve these issues administrative-first, because in order to get legal equitable relief you have to exhaust all administrative possibilities of the young man being cleared," Jackson said.
"At the same time the actions here as I see them at the moment ... these actions (of NCAA) appear to be quite illegal. In this situation, the manner in which this investigation has occurred and the manner in which a determination has been made on a statement of fact relative to young man's legal guardian ... it clearly appears they (NCAA) have violated their own rules. How can you conduct a credible investigation and have a particular individual as a target of that investigation without ever having had any interaction with him?" Jackson added.
Jackson is referring to the NCAA not having yet spoken with Diallo's legal guardian, even though Drame has made it clear he's ready and willing and able to be inteviewed.
"The fact of the matter is in cases where they can't establish that a student-athlete has violated NCAA rules — where they can't establish violations, they will intentionally drag cases out to essentially impose a de-facto suspension. That is what is happening in this case," Jackson said.
"They have not been able to establish a violation. As a result of that it serves their purpose to continue an investigation for an interminable amount of time and essentially force the student-athlete to serve a suspension. The young man's legal guardian who is very much at the heart of certain aspects of this investigation has not even been interviewed," Jackson exclaimed.
"He has advised them he wants to be interviewed. They have not even interviewed him even though they apparently have drawn conclusions about his relationship with this young man without ever having spoken to him."
Jackson said there is no concern about amateurism violations as Drame is Diallo's legal guardian in the country of Mali.
"We have a gentleman who based on Malian law is the legal guardian of this young man," Jackson said. "Unless an athletic regulatory association somehow claims their internal legislation is superior to the legal system in a sovereign nation that ends that area of consideration."
As far as the initial eligibility side of the case, Jackson is shocked the NCAA is reportedly looking into classes Diallo took in Mali as far back as the sixth grade. He said normally the cutoff is ninth grade.
Jackson called it an "intentional effort to delay and somewhat of a witch-hunt."
"If you don't have coursework in your high school algebra class or 9th grade biology class or 10th grade geometry class (at Our Savior New American High in New York which Diallo attended three years) to satisfy them it was academically rigorous enough they'll disallow that course as a core course. There's been an element of that involved in this case," Jackson said.
"This young man has been subjected to an exhaustive review that lasted for almost six months on both of issues both on amateurism side and academic side. Candidly the vast majority of these cases end late August or early September. Quite often you'll find cases that will linger into the season. Once that occurs it's nothing more than a de-facto suspension which essentially the young man is serving right now."
Good news on Greene: Brannen Greene, who missed Tuesday's 89-66 exhibition victory over Fort Hays State because of discomfort and stiffness in his surgically repaired hip, practiced on Wednesday.
"He couldn't go Tuesday and today he was 100 percent. It's going to be like that for a while (as Greene continues recovery)," coach Bill Self said on his Hawk Talk radio show.
Lightfoot to sign today: Mitch Lightfoot, a 6-foot-9, 210-pound senior forward from Gilbert (Arizona) Christian High, who orally committed to Kansas University on Oct. 24, is expected to sign his letter-of-intent today, the second day of the week-long early signing period. Lightfoot, who is ranked No. 117 nationally by Rivals.com, did not sign Wednesday because school was not in session on the Veterans Day holiday.
Fox announcement today: De'Aaron Fox, a 6-3 senior point guard from Cypress Lakes High in Katy, Texas, who is ranked No. 5 nationally by Rivals.com, is expected to announce for Kentucky over KU, Louisville and LSU today on ESPNU's Signing Day Special, to run from 5 to 6 p.m., Central time.