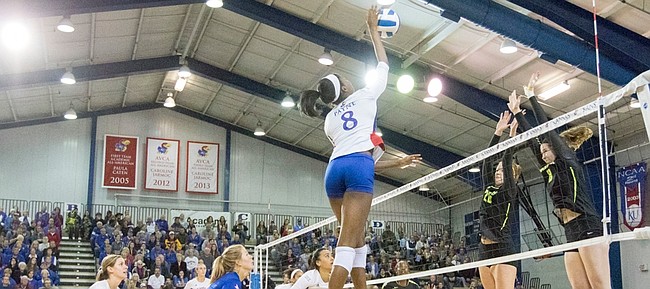 A 6-foot-3 freshman who started 15 times in her first season with Kansas University's volleyball program, Kelsie Payne didn't exactly go unnoticed in 2014.
But as a sophomore, the Austin, Texas, native has gone from reliable role player to a hitter the rest of the Big 12 can't help but fear.
Named the conference's top offensive talent for the second week in a row and the third time this season, Payne said Monday she didn't at all expect to make such a leap. But the No. 10-ranked Jayhawks (22-1 overall, 10-1 Big 12) sure are thankful she did.
"I switched positions, from middle to right side," Payne said of the move by KU coach Ray Bechard that set things in motion for her breakout success. "Now I just get more sets, and I had to change the way I look at the game. So it's been interesting, and it's been fun. It's given me a lot of opportunities to be successful."
Payne ranks second among Big 12 players this season in hitting percentage (40.4 percent), kills per set (4.17) and points per set (4.61).
The leader in each category plays for Texas — KU's No. 5-ranked opponent Wednesday (6:30 p.m.) Horejsi Family Athletics Center. Chiaka Ogbogu owns a 41.4 hitting percentage, Amy Neal averages 4.25 kills per set, and Neal scores more points per set (4.87) than any player in the league.
Those are just a few of the numbers that helped Texas — the only team to beat KU this season — sweep the Jayhawks on Oct. 23, in Payne's hometown.
When KU gets a rematch on its home court, Payne will play a prominent role. It wasn't until the first weekend of the season, back in August, at Arkansas, when she realized she could impact the team in such a way. KU started going to its new right-side swinger for side-out plays, and sophomore setter Ainise Havili (No. 2 in the nation in assists per set, just 0.05 behind SMU's Avery Acker's mark of 12.29) started sending the ball in Payne's direction when matches got tight.
"I'm steady, and I'm the one they look to for points," Payne said. "So it's a cool spot to be in."
Payne is just one cog in an ultra-talented sophomore class. Fellow second-year Jayhawks Havili (twice) and Madison Rigdon have joined Payne as Big 12 Offensive Player of the Week winners this season.
"I remember last year we were kind of just wandering around lost and not knowing what was going on," Payne joked of the sophomore group that includes Tori Miller, Kayla Cheadle, Claire Carpenter and Addison Barry as well. "We've kind of grown up a little bit. It's cool to have such a close class, and we spend a lot of time together. It's good that we're successful."