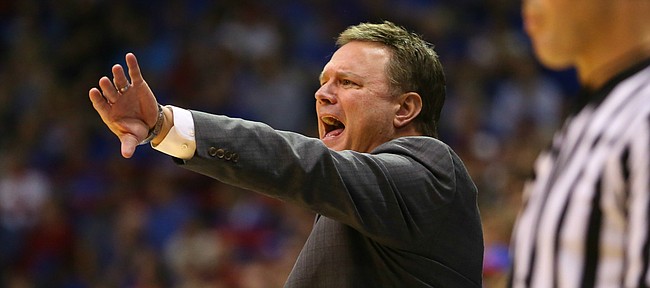 Bill Self wasn't alarmed at Kansas University's 4-of-19 three-point shooting in Wednesday's basketball exhibition opener against Pittsburg State.
"That's one thing I'm not worried about," Self, KU's 13th-year coach, said Sunday of his Jayhawks, who hit 21.1 percent from three and 58.5 percent of their two-point tries in an 89-66 victory over the Gorillas.
"Even though we shot it miserably from the three-point line, I'm not worried about the shooting at all. I think one of the strengths of our team is going to be our perimeter shooting," Self added.
The Jayhawks practiced once Friday and twice Saturday before taking Sunday off. Next exhibition is Tuesday versus Fort Hays State, set for a 7 p.m. tipoff in Allen.
"The other day we were 27-of-44 in our scrimmage from three (for 61.4 percent)," Self said after Wednesday's game. "It's fools gold because you don't play as hard defensively because everything is going in. This was great for us to learn to be exposed what our weaknesses are, because if you make shots, you're not exposed. The biggest thing is we have to play with more energy and athleticism."
Self said effort has been intense at practice since the Pitt State game.
"We've gotten better since our last game," Self said. "I thought we played very poorly in a lot of areas in that game (including staying in front of perimeter players). Hopefully we'll be improved this week.
"I'm not overly pleased," he added of workouts. "I think some key players, especially some returning guys, can step it up another level."
Self said forward Landen Lucas, who was slowed by a sprained ankle versus Pitt State, "is fine. He'll be 100 percent (for Tuesday)." Self said junior Wayne Selden Jr., "was sick on Saturday and missed a day. Everybody should be ready to go tomorrow (today)."
Self said "I don't know" when asked when to expect a ruling in the Cheick Diallo initial-eligibility case.
Jackson scores 30 in Ames: Josh Jackson, a 6-foot-7 senior forward from Prolific Prep in Napa, California scored 30 points with 11 rebounds, six assists and three blocks in his squad's 98-91 loss to Victory Rock Prep on Saturday at the Cornfield Classic in Ames, Iowa.
Jackson, the No. 1 player in the Class of 2016 by Rivals.com, is considering KU, Michigan State, Arizona, Maryland and others. He will not choose a school in the early signing period which runs Wednesday through Nov. 18.
"Josh is the finest high school player I've ever seen," Prolific Prep coach Billy McKnight told Zagsblog.com. "He is a super talented player and not just physically, but mentally. He picks things up so quick. His physical attributes are phenomenal. He's an extremely unselfish player, phenomenal passer. And he really just makes the game look easy, even against guys that we have right now that are high-level players. He just does things that are incredible. He's a treat to watch as a basketball fan and obviously we're excited to have him, and he's going to go on and do some unbelievable things."
Lots of pros: The NBA announced that Kentucky has supplied the league with the most players of any college this season (21), followed by KU (19), Duke (18), North Carolina (16), UCLA (14), Arizona (13), Florida (10).