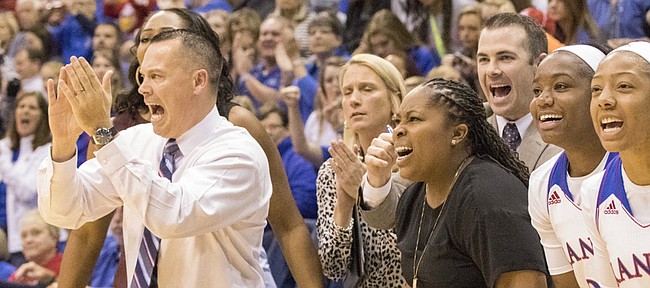 For nine of the 12 seasons Brandon Schneider served as head women's basketball coach at Emporia State University, he did so with the help of then-assistant Jory Collins.
However, Schneider, in his first season as coach at Kansas University, wasn't exactly excited about facing his longtime cohort and buddy Collins, who replaced him at ESU, in an exhibition Sunday afternoon at Allen Fieldhouse.
The two talk and text as often as they can, so Schneider sort of felt like he had just defeated a family member following KU's 68-57 victory.
"He knows how I was gonna feel had we lost," Schneider said of Collins, whose Hornets enter the 2015-16 season ranked No. 1 in Division II and gave the Jayhawks a scare in the first half. "I know how he's feeling right now. You just don't wish that on people that you care about."
Schneider, who went 306-72 and led ESU to the 2010 national championship, said it felt strange competing against a program that still means a lot to him.
"Whether it's administration in that athletic department, or whether it's the fan base, I am where I am today because of many of those people," the new KU coach said. "I will forever have a little bit of Vegas gold in my blood, I promise you."
It became easier for Schneider to forget about those feelings — and his friend Collins — for a little while, though, when Emporia State took an 11-point lead in the second quarter.
"I'm not thinking about his feelings at that moment. I'm trying to figure out how we can rotate to a pick-and-pop," Schneider said. "All that goes out the window once you get in the game, because I didn't get to take any shots today, and he didn't get a chance to get any rebounds. It's really about the players once you tip it."
In fact, KU junior forward Caelynn Manning-Allen said the exhibition didn't feel any different for the Jayhawks, because Schneider prepared them as he would have for any other opponent. Kansas didn't really panic in a double-digit deficit, and by halftime, ESU's lead shrunk to 36-35, following a couple of baskets form sophomore guard Lauren Aldridge (18 points, seven assists, five rebounds) and a timely three-pointer from junior guard Timeka O'Neal (eight points off the bench).
"One thing that he preaches about most often is just playing together and playing tough," said Manning-Allen, who finished with 11 points and four boards. "That's one thing that we did really look more into going into the second half. We felt like we could play harder, rebound more and just be more physical, and get up and down the court more — just play as hard as we could so that we could stay in the game, get back in it and just take the lead."
Accordingly, Kansas got the start it needed to open the third quarter. Freshman point guard Aisia Robertson scored a layup. Then Manning-Allen got an and-one off a pick-and-roll with freshman guard Kylee Kopatich (10 points, four assists). Next, sophomore guard Chayla Cheadle, who scored all nine of her points in the second half, hit a three-pointer off a pass from Aldridge. When Manning-Allen converted another layup off a Kopatich dish, the Jayhawks had a 10-0 explosion less than two minutes into the second half and a nine-point lead against an ESU team that looked extremely comfortable a quarter earlier.
Aldridge, who twice in the fourth quarter responded with driving layups when the Hornets got within three points, said Schneider's offense makes every Jayhawk a threat.
"I just think it allows people to do what they do best," Aldridge said. "And when the time comes, I think each and every one of us on the team will step up and hopefully make the play that we're supposed to."
KU will open its regular season Sunday against Texas Southern.