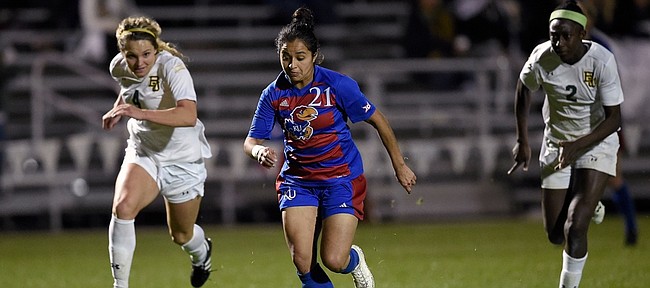 Kansas City, Mo. — Two underdogs will meet at 3 p.m. today in the Big 12 soccer tournament championship game, as No. 6-seeded Kansas University takes on No. 5 seed Texas Tech at Swope Soccer Village.
The Jayhawks (10-8-2) knocked off No. 3 Texas, 2-1, Wednesday in the quarterfinals before shutting out No. 2 Baylor, 2-0, Friday in the semifinals.
"Right now, I think things are turning to our side," KU senior Liana Salazar said. "We're playing good. We're scoring. We've defended really good."
Salazar scored both of Kansas' goals against the Bears despite being closely marked in one of the most physical matches the Jayhawks have played in this season. The senior midfielder expects the title tilt with Texas Tech to feature skill and technique, as opposed to a hard-nosed matchup like the Jayhawks had on Friday.
"I think against Texas Tech, you guys are going to be able to see soccer. Not just like wrestling or something like that," Salazar said. "It's going to be soccer, and it's going to be creativity from them and same with us. It's going to be very important for us to see where we're going to attack them. It's going to be like a chess match. We have to see where we can attack them so we can score and win."
While the Jayhawks will be led by Salazar and her team-high six goals, the Red Raiders have a prolific goal-scorer of their own in Big 12 Offensive Player of the Year Janine Beckie. The TTU senior has 11 goals on the season, including the game-winner in the Red Raiders' 1-0 victory over Kansas on Oct. 23 in Lubbock. Beckie also scored the game-winner on Friday, when the Red Raiders edged No. 2 nationally-ranked West Virginia, 1-0, to advance to the championship game.
"She only needs one opportunity. (Friday) she had two," KU coach Mark Francis said. "She missed the first one, which was easier than the one she scored, to be honest, but she obviously clinically finished the second one, and it ended up being the difference in the game. We've got to do a good job on her defensively."
Beckie has helped the No. 18-ranked Red Raiders (12-3-5) rattle off four straight wins — starting with their victory over Kansas. TTU will likely earn an at-large to the NCAA Tournament if it is unable to win today, but the Jayhawks might need a victory to prolong their season.
Prior to its two wins in the Big 12 tournament, Kansas was ranked No. 82 in the RPI, but can earn an automatic berth to the NCAAs with a victory against TTU.
"Playing Tech, it's going to be a great game of soccer," Francis said of today's matchup, which will be broadcast on Fox Sports 1. "They played tremendously well (Friday) against West Virginia. Obviously, you've got to play well to beat those guys, but I thought Tech deserved to win and I thought they played really well."
More like this story on KUsports.com