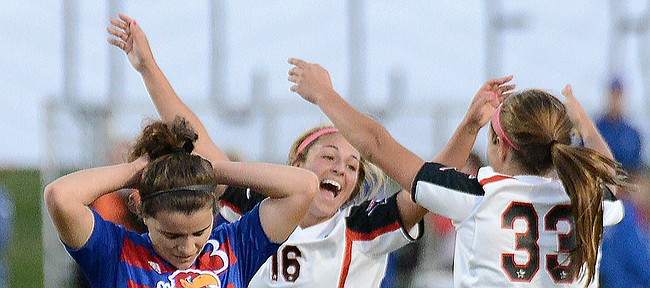 Kansas City, Mo. — Kansas University's soccer team's deepest run in the Big 12 tournament in school history ended with a 1-0 loss to Texas Tech in the conference championship game Sunday at Swope Soccer Village.
Texas Tech freshman Gwennie Puente scored in the 85th minute, as the Red Raiders capitalized on a rare missed save from KU goalkeeper Maddie Dobyns. TTU senior Caity Heap fired a shot in from the top of the 18-yard box that deflected off of Dobyns to Tech freshman Duke Jordan. Jordan collected the rebound and dished it to Puente for the game's lone goal.
"The opportunity that they got I think was a little bit of a mistake by us, but they capitalized on it," KU coach Mark Francis said. "Our sport sometimes is cruel."
The sixth-seeded Jayhawks had plenty of chances to score on the Red Raiders, especially in the first half. KU outshot TTU, 15-11, with 11 of the Jayhawks' attempts coming before the break. Kansas' best chance came in the 28th minute, when senior Liana Salazar split two TTU defenders before getting fouled in the 18-yard box to earn a penalty kick. Salazar tried to put it in the lower-right corner, but Tech goalie Lauren Watson guessed correctly to keep KU scoreless.
"That PK, the odds are with the kicker," Watson said. "I just tried to calm myself down, take a deep breath and try to cover as much of the goal as I could."
Sophomore Kayla Morrison and Salazar tallied a team-best three shots apiece for the Jayhawks. Salazar also positioned KU for two other golden opportunities — first with a cross from outside of the box into Morrison that was headed high in the 29th minute, and again in the 82nd when she sent a through ball to Ashley Williams. Williams was set up with a one-one-one matchup with Watson and slammed it home, but was ruled offside.
"I thought we did more than enough to win the game," Francis said. "We clearly had much better opportunities, but you've got to give Tech credit. They switched their formation in the second half because I thought we kind of decimated them in the first half."
Salazar's and Dobyns' efforts throughout the Jayhawks' last three games did not go unnoticed by the conference. They were named to the All-Big 12 tournament team.
"We're not here today if Maddie doesn't make some of those saves she made against Texas (in the quarterfinal)," Francis said. "Then Li (Salazar) … she's been tremendous all year, obviously scoring the two goals in Friday's game (against Baylor) and helping us win that one and making it to this point. Li's been clutch for us all season."
Watson, Puente and Heap were also selected to the tournament team for the fifth-seeded Red Raiders, along with TTU's Janine Beckie and Allie Murphy.
The TTU goalkeeper was humbled by the nomination but was quick to credit Dobyns and the Jayhawks for their performance.
"It's such an honor to be named to the all-tournament team," Watson said. "Credit to their goalkeeper (Dobyns). I was watching her in some of the games, and I know that when they were playing Texas, she had one that was tipped over. That was an awesome save."
Following tournament victories over Texas and Baylor, and Sunday's loss to Tech, the Jayhawks are 10-9-2 entering today's NCAA Div. I Tournament selection show. The bracket will be revealed at 3:30 p.m. on NCAA.com.
The Jayhawks reached the NCAA Tournament last season — and lost in the first round to Missouri — but Francis thinks KU might need some help to receive back-to-back bids.
"I'd say we're probably an outside shot. There's always a chance because we made it this far, and if you make the conference tournament and finish the season well, I think that helps you," Francis said. "I think it will probably depend on some of the other conference tournaments and how those panned out."
More like this story on KUsports.com