Wednesday, November 4, 2015
Just a few minutes after watching Kansas University senior Perry Ellis explode for 22 points and 12 rebounds during Wednesday's 89-66 KU victory at Allen Fieldhouse, Pitt State basketball coach Kevin Muff was asked what he thought of Ellis.
The punishment the Wichita native dished out to Muff's team did nothing to change his mind about KU's leading scorer and top weapon.
"I love him," Muff said. "No. 1, he's a Kansas guy. Just a highly skilled (player), great hands, great feel for the game. I want nothing but the best for that young man, mainly because of the type of person he is. I just love the way he plays."
KU coach Bill Self said during the preseason that Ellis was leaner and noticeably more explosive heading into his final season with the Jayhawks. Muff agreed with Self and said Ellis' new look was on full display during the exhibition victory over his team Wednesday night.
Photo Gallery
Kansas basketball v. Pittsburg State (exhibition)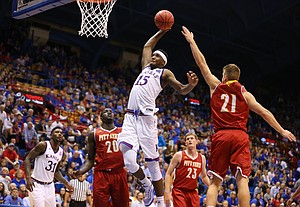 Images from Wednesday night's exhibition between the Jayhawks and Gorillas at Allen Fieldhouse.
"I thought he was (leaner) versus two years ago when I was here, just seeing him in person," Muff said. "I think he is leaner and he's definitely lost some weight and I think the way they call the post defensively now, if he can square guys up and get any hands on him, it's automatic. He really doesn't have to be a back-to-the-basket guy and I think that plays right into his wheelhouse."
Podcast episode
After discussing his team's exhibition opener against Pittsburg State, which exposed some weaknesses of Kansas, coach Bill Self details how busy and disappointing a day he had leading up to the game, due to being in constant meetings regarding the eligibility of freshman Cheick Diallo.
Pitt State senior Josiah Gustafson, who drew the unenviable but exciting challenge of guarding Ellis for most of Wednesday's game, agreed with his coach and said his goal was to make Ellis work.
Podcast episode
Kansas basketball players Devonté Graham, Perry Ellis and Carlton Bragg discuss the Jayhawks' first exhibition of the 2015-16 season, an 89-66 victory over Pittsburg State.
"You just gotta attack him," said Gustafson, who held his own on the stat sheet with 20 points and eight rebounds. "The game plan was to deny him real hard. If he doesn't touch the ball, I don't have to guard him. We just tried to take him out of what he does best. Being a D-II school like this, you just go in and try to compete and give them everything you've got."
For a while Wednesday, everything the Gorillas had included relentless physical play and a game that more closely resembled the Big 12 in February than an exhibition opener.
"They have an unlimited amount of big bodies and it's different for us," Gustafson said. "But that just comes from conditioning and having the heart and never backing down from anybody."
Added Muff: "I thought we played extremely hard. It was kind of an ugly game but I thought both teams competed... That's kind of what we see our job as, come in here and give them as good of a game as we can."
In addition to being pleased with the way his team competed, other than the 15-3 KU run that closed the first half, Muff, like all small school coaches who come into Allen Fieldhouse, was incredibly thankful for the opportunity.
"I'd do this every year if we could," Muff said. "More for my players, just to be able to experience being in this arena and this setting. I think it's great for them."
— See what people were saying about the exhibition during KUsports.com's live coverage.
https://www.youtube.com/watch?v=k3vOVcMIQog
---
https://www.youtube.com/watch?v=7gvxe-C2Xyg
---
More news and notes from Kansas vs. Pittsburg State
---