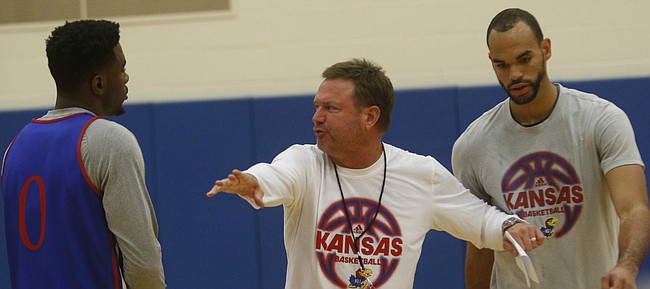 Sean Pearson, who played small forward at Kansas University from 1993 to '96, returned to campus Friday and Saturday to watch a pair of practices and listen to a plethora of speakers at Bill Self's coaches clinic.
The 6-foot-5 native of LaGrange, Illinois, is a head coach himself — at Lincoln College Prep Academy in Kansas City, Missouri — while also running Pearson Basketball Basics for youths.
"It was awesome," Pearson said of the KU clinic. "I loved it. I learned a lot. I liked the intensity with the players (at practice)."
Pearson studied both KU's players and coaches alike at practice.
"The big thing I picked up is make sure to stay on them (players) and not praise them for things they know they should do and (also) build them up to get better," Pearson said. "How to be patient with your players, but stay on them. Don't always praise them just for being here. Make sure they earn it."
Pearson — he played on three Big Eight champion and one Final Four team at KU — said he enjoys working with high school athletes.
"It's different," he said of coaching compared to playing. "The big thing I have to remember is I can't get out there and play for them. I've just got to tell 'em and try to teach them what they need to know."
Pearson was asked to assess the 2015-16 Jayhawks after watching the squad practice a total of five hours.
"They are going to be a lot better than a lot of people expect them to be, which is a good thing," Pearson said.
KU coach Self said he enjoyed working with Pearson at his camp. Pearson's head coach at KU was Roy Williams, who is now at North Carolina.
"It's great to see ex-players such as Sean come back and always great to be with guys affiliated with the program," said Self. "Our overall numbers weren't great, 130 or something like that, but it was a good number for us to hold this in our practice gym (where acoustics are better than fieldhouse). It was a great clinic. Fran (Fraschilla, ESPN) came in and did a great job (speaking to coaches), and our assistants did a great job."
Stale ball: Self reiterated Saturday that practices haven't been very productive of late.
"We didn't play very well today," Self said. "We were better Saturday than we were Friday. We are playing like a team that is ready to play somebody else. We are stale right now. We've got to pick it up and become more energetic and enthused. We've got a bunch of experienced guys, and it's getting old (for them). They are ready to start playing."
Cheick working hard: Self told the coaches that freshman forward Cheick Diallo makes 700 baskets a day on KU's shooting machine on the Jayhawks' off days.
"Cheick works his butt off. He works hard," Self said of the Mali native whose academic-eligibility credentials continue to be examined by the NCAA Eligibility Center. "Everything is new to him. He's doing well. He's figuring it out. He's just got a lot to learn. He's going to be good in time."
Young, Releford drafted: Former KU forward Kevin Young was taken by Bakersfield (California) at No. 17 in the first round of the 2015 NBA Developmental League draft Saturday. Former KU guard Travis Releford was taken in the third round by Idaho.
More like this story on KUsports.com