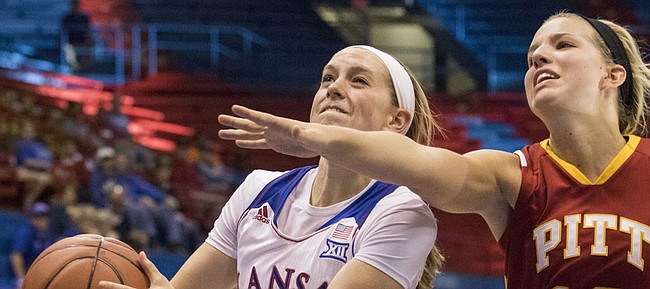 When new Kansas University women's basketball coach Brandon Schneider started two freshmen and relied on two more college rookies off the bench Sunday afternoon in his team's exhibition opener, he understood his debut wouldn't go flawlessly.
But the positives far outweighed the negatives in an 80-54 victory over Pittsburg State at Allen Fieldhouse, as first-year players contributed in major ways, and a pair of veterans carried the scoring load.
Sophomore point guard Lauren Aldridge nailed four of eight three-pointers on her way to a game-high 21 points, while junior post player Caelynn Manning-Allen went for a double-double, with 12 points and 11 rebounds.
The freshmen Jayhawks didn't wait long to prove they could make an impact, too. After KU fell behind early, 6-2, in the first quarter, three newcomers provided baskets in a 1:15 stretch that put Kansas ahead for good. Reserve freshman forward Tyler Johnson converted a layup, and first-year starting guards Asia Robertson and Kylee Kopatich nailed back-to-back three-pointers.
Kopatich, a 5-foot-10 scoring guard from Olathe South, played a team-leading 34 minutes, hit both of her three-pointers and scored eight points. Robertson, a 5-7 freshman point guard from San Francisco, scored seven, while adding five rebounds and five assists. Johnson, a 6-2 post player from Leavenworth, shot 3-for-3, for six points.
A pace-changing, driving 5-8 point guard from Federal Way, Washington, Jayde Christopher came off the bench to score three points and dish four assists in 14 minutes.
Schneider said Christopher, who showed off her ability to create layups for teammates, isn't yet able to run all the plays the Jayhawks use when Aldridge is on the floor. Still, he likes how dynamic the youngster is with the ball.
"A lot of it with Jayde is just so get it in the lane — as fast as you can," Schneider said. "Because she has a lot of confidence in that."
Kopatich said all of KU's first-year players believe in themselves — and one another — because they've quickly built trust in Schneider, as have the returning Jayhawks, who previously played for Bonnie Henrickson.
"If you think about it, a lot of us, we really all are freshmen," Kopatich said. "With the new coaching staff coming in, we're all adjusting. … Everything is new."
Aldridge agreed to some extent and said the true first-year players had some promising moments in the preseason tune-up.
"They've been proving themselves, very much so, in practice," Aldridge said. "I think it's really cool, because each of them brings something different to the team that makes us better."
Schneider knows he'll need inexperienced players to find ways to chip in all season long.
"Until someone disproves this statement, I think we're the youngest team in the country," he said.
To further his point, Schneider pointed to how KU also relied on Aldridge, sophomores Chayla Cheadle (nine points, six rebounds) and sophomore post player Lorraine Enabulele (two points, two boards).
"Sophomores aren't old," he added. "I think there's gonna be some times where we make some mistakes that, quite frankly, are from a lack of experience. But hopefully we're intelligent enough to learn from those, whether it be in-game or in film session the next day."
The Jayhawks return to Allen Fieldhouse next Sunday for their final exhibition, against Schneider's former program, Emporia State.
More like this story on KUsports.com