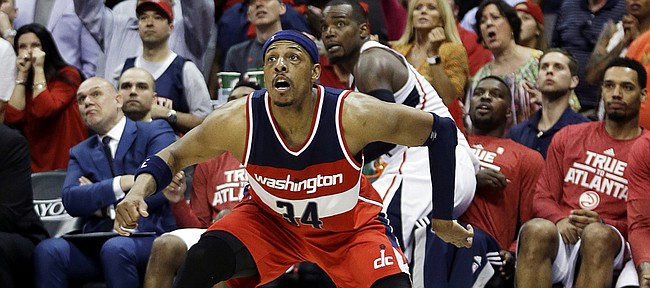 Bill Self and Roy Williams, Kansas University's only two basketball coaches for the past 27 years, combined for six Final Fours, four NCAA title-game appearances and one national title for KU. They have done so employing different coaching styles and personalities.
Self, from Edmond, Oklahoma, and Williams, from Marion, North Carolina, have at least one thing in common. Both men have coached more great basketball teams than super-loud basketball talents, a compliment to their ability to judge talent well in compiling deep rosters and in their ability to make the talent mesh.
Quickly, off the top of your head, offer a guess as to how many combined NBA All-Stars Self and Williams have coached at Kansas.
The answer is ... not in this paragraph, because cheaters who peek do not get rewarded.
The answer is in this paragraph: One. Paul Pierce, who last played for KU in 1998, is KU's only NBA All-Star since Danny Manning earned his second honor in the 1993-94 season. In Williams' 27 years as a Div. I head coach, Pierce remains his lone NBA All-Star. In Self's 22 years, including four at Oral Roberts and three apiece at Tulsa and Illinois, former Illini point guard Deron Williams is his only NBA All-Star.
Now more than ever, in the age of one-and-done, landing superstars isn't as important as compiling depth, roster balance and flexibility.
Interestingly, during the combined Williams-Self eras, Wake Forest, not a consistent winning program, has had four NBA All-Stars (Tim Duncan, Josh Howard, Chris Paul and Jeff Teague).
NBA Rookie of the Year Andrew Wiggins makes Self the favorite to have a second All-Star before Williams, not that the coaches compete on that level. Harrison Barnes, Markieff Morris and Joel Embiid also are candidates.
If two more Self players compete in the showcase event, Self will become the only Kansas coach to have three NBA All-Stars. Dick Harp coached Wilt Chamberlain and Bill Bridges, Phog Allen coached Clyde Lovellette, Manning played for Larry Brown, JoJo White for Ted Owens and Pierce for Williams.
This coming season's KU team doesn't have a player on the roster who easily projects as an NBA All-Star, which hurts the Jayhawks' chances of reaching the Final Four not one bit. None of the six Final Four teams during the Williams-Self era had an NBA All-Star playing for it. Mario Chalmers, who averaged a career-best 10.2 points for the Heat this season, has been the best pro from the 2008 national-title team.