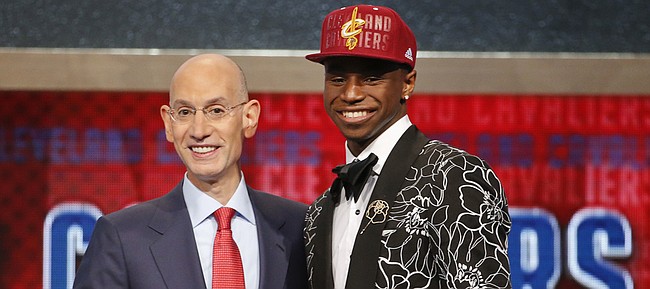 Business Insider Australia has written a short piece that gives Kansas University basketball coach Bill Self some valuable ammo in recruiting.
Over the last 15 NBA Drafts, KU leads all colleges in lottery picks (top 14) with 13 — three more than any other school. North Carolina, Duke and UConn have had 10 lottery picks apiece in that span, followed by Kentucky (8), Arizona (7), Texas and Syracuse (6), Florida, UCLA and Indiana (5) and Georgetown (4).
KU has had eight lottery picks in the last five years, including last year's No. 1 (Andrew Wiggins) and No. 3 (Joel Embiid). The article is available at http://ljw.bz/1Eiszcp
Mack chooses Texas: Tevin Mack, a 6-6 senior small forward from Dreher High in Columbia, South Carolina, who is ranked No. 61 in the Class of 2015 by Rivals.com, committed to Texas on Tuesday over Georgia and Clemson. Mack had KU on his list of schools until Sunday, when 6-5 LaGerald Vick committed to the Jayhawks.
Mack actually committed to coach Shaka Smart for the second time this school year. He signed to play for Smart's VCU team but opted out of his letter-of-intent when Smart accepted the Longhorns job.
"It was the relationship that was the main thing. I signed with him in the fall. He was the same person as six months ago," Mack told The State newspaper.
The Longhorns have a three-man recruiting class that includes guards Eric Davis (Saginaw, Mich.) and Kerwin Roach (Houston, Texas).
"He has a unique blend of scoring, length and a really nice feel for the game," Smart said Tuesday. "In particular, his ability to make shots from the outside is something that was extremely attractive to us in the fall and remains extremely attractive to us now. Personality-wise, he's a great fit and he is very competitive."
Big Ten switcheroo: Caleb Swanigan, a 6-8, 255-pound center from Fort Wayne, Indiana, who is ranked No. 19 in the Class of 2015, committed to Purdue on Tuesday after recently decommitting from Michigan State.
Recruiting note: KU has called to express interest in Providence freshman Paschal Chukwu, Rivals.com reported Tuesday. The 7-foot-2 center, who announced plans to transfer Monday in telling the Providence Journal he wanted "a change of scenery," averaged 2.6 points and 2.4 rebounds his freshman campaign at Providence. Virginia has also called about Chukwu, ScoutFriars.com reported.
"While those numbers were modest, Cooley (Ed, head coach) and other members of the Friar coaching staff frequently linked the words 'Paschal' and 'lottery pick' when discussing Chukwu's vast potential," writes Kevin McNamara of the Providence Journal. "He is the highest-rated big man Cooley and his staff has ever recruited after he was ranked the 61st best prospect in the country by ESPN.com coming out of Fairfield (Conn.) Prep."
McNamara added: "Filling Chukwu's role will be next to impossible, at least in the 2015-16 season. The 20-year old owned great potential as a shot blocker and rebounder and owned excellent hands for a big man. That's why he'll be in great demand on the transfer wire over the next few weeks."
Chukwu, a native of Nigeria, is expected to hear from a plethora of programs.
"The Chukwu thing, I was blown away by. I didn't know he was unhappy," coach Cooley told the Providence Journal. "It was a total shocker. It blew me completely out of the water."
Providence coach Cooley was quite candid in discussing with the Providence Journal the issues of so many players transferring recently.
"Any kid, when they're unhappy with anything, they think there's a quick fix somewhere else. I call them the 'microwave generation.' It's the age of instant gratification. Not many kids want to persevere if they don't get what they want right away. The ones who do become like LaDontae Henton (one of Providence's all-time leading scorers who progressed yearly at the school)."