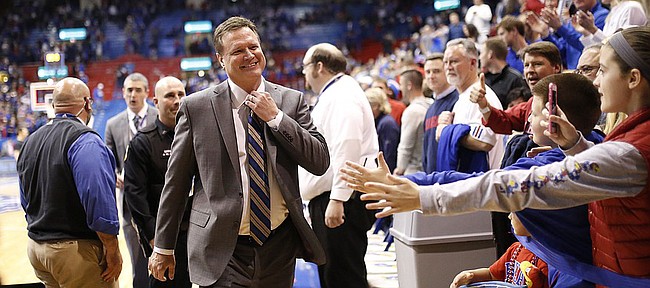 Kansas University's men's basketball team has earned its eighth-straight NCAA Academic Performance Program (APP) Public Recognition Award, KU and the NCAA announced Wednesday.
KU was one of 39 teams to be recognized for achieving Academic Progress Rate (APR) success in the top 10 percent of all NCAA Division One men's hoops programs.
Six other Div. One programs have as many NCAA APP Public Recognition Awards. The total is just short of the combined total number of recognitions by other Big 12 members (10) over the last 10 years. KU and Texas (7) — who each received recognition Wednesday — combine for 15 of current Big 12 members' 18 total APR honors in men's basketball, with West Virginia (2) and Baylor (1) also earning honors in years past.
The APR, according to a KU release, provides a real-time look at a team's academic success each semester by tracking the academic progress of each student-athlete on scholarship. The APR accounts for eligibility, retention and graduation, providing a measure of each team's academic performance. The most recent multi-year APRs are based on scores from the 2010-11, 2011-12, 2012-13 and 2013-14 academic years.
APRs for all teams, including access to postseason play and penalties for low-performing teams, will be released May 27. Kansas is the only Big 12 school to receive an NCAA Public Recognition Award in each of the 10 years of the program. The Jayhawks have had a total of 25 teams honored with Public Recognition Awards (for multi-year academic success).
The four-year APR scores of all of KU's 18 sports programs are expected to be well above the requisite score of 930 established by the NCAA for good standing, KU officials indicated Wednesday.
Aldrich a free agent: Former KU center Cole Aldrich, 26, is a free agent this offseason. It's good timing for the 6-foot-11, 245-pound Bloomington, Minnesota native as he's coming off his best of five campaigns in the NBA.
Aldrich averaged 5.5 points (off 47.8 percent shooting; 78.1 percent free throwing) and 5.5 rebounds a game in 61 games for the New York Knicks.
Aldrich, who played a career-best 16.0 minutes per game and started 16 games, had 24 points off 11 of 16 shooting and 15 rebounds in the season-finale against Detroit.
Other big games: 12 points, 19 rebounds vs. Portland; 19 points, 14 boards vs. Orlando; 17 points, 13 boards vs. Utah; 11 points, 14 boards vs. Detroit; 18 points, 7 boards vs. Sacramento; 13 points, 10 boards vs. Chicago.
"It was a good year for me personally. I was able to get on the court and show I can play," Aldrich told Minnesota TV station KSTP this week.
"It was really my first year of getting out on the court and playing extended minutes. My turn has come. I played well. I have all the confidence in the world," added Aldrich, still missing the one front tooth knocked out during his days at KU.
Aldrich was asked if he'd consider playing for his hometown Minnesota Timberwolves.
"Of course. I think of the Timberwolves as Kevin Garnett going to the conference finals. It would be a lot of fun," he said.
The Aldrich interview is available here: http://ljw.bz/1LnkjOk.
Mysterious Maker: It is not known whether No. 9-ranked (by Rivals.com) Thon Maker, a 7-foot senior center from Orangeville Prep in Mono, Ontario, will be playing college basketball starting second semester of the 2015-16 season.
"I won't finish (coursework) until December so it (his recruitment) is kind of standing still right now. I finish in December and I can reclassify (from Class of 2016 to 2015) if I want to," Maker told Peegs.com on Tuesday.
He said coaches from KU, Kentucky, Indiana, Michigan, Michigan State and others have expressed interest.
What nobody has been discussing regarding Maker is the fact his academic credentials would have to go through the NCAA Clearinghouse after high school graduation in December and that many times is a drawn-out process.
If he chose KU, for example, he quite possibly would not be available until after the start of Big 12 play and would be leaving school immediately after the season to prepare for the 2016 NBA Draft. That's a possible three-month stay on campus.
"It's a little stressful because your mind is running. You have people telling you to hurry up and stuff like that," Maker told Peegs.com. "But I have to be ready, so I have to finish my credits. I can't play if I don't finish my credits. I really have to focus on that part. In terms of the basketball side, I let my guardian handle the coaches so I can focus on getting better, so it's not always stressful."
Of factors in picking a school for the one semester, he said: "It's about having a good relationship, but not just with the coaches and the players. It's the community, the surroundings, having the right people around you."