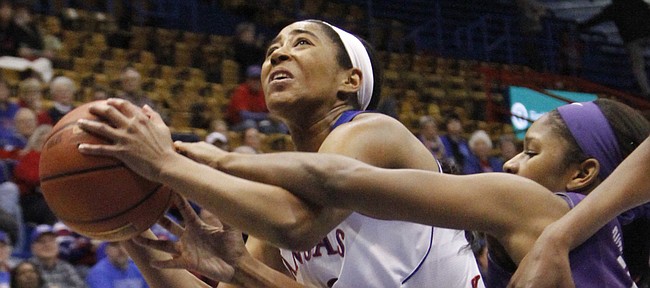 New Kansas University women's basketball coach Brandon Schneider now has a complete staff in place for his first season leading the program.
Schneider announced Wednesday the additions of Andy Majors (director of player development) and Donease Smith (director of basketball operations). Plus, Natalie Knight, a four-year starting guard for the Jayhawks under former head coach Bonnie Henrickson, will remain with the team in the role of graduate student manager.
"Natalie had a tremendous career at Kansas as a student-athlete and we're glad that she has decided to make the transition from player to coach with our program," Schneider stated in a KU release. "She has been an outstanding member of the KU community and we're thrilled she will continue to be part of it."
Knight received All-Big 12 Honorable Mention twice in her career, which she finished with 1,081 points, 436 rebounds and 340 assists. She played on two Sweet 16 teams at Kansas, in 2012 and 2013.
Majors worked along Schneider for five seasons at Stephen F. Austin and before that served as an assistant at Pittsburg State.
"Coach Majors will be an invaluable asset both to our coaching staff as well as our student-athletes," Schneider said. "He will head up the scouting of our opponents, and he will do an outstanding job as we game plan and prepare for success on the court."
Smith, who previously worked in the WNBA with the Detroit Shock as basketball operations manger, spent the past six seasons aiding the women's basketball program at Memphis.
"I've known Donease for a long time and I am excited that we could add someone with her experience in the world of operations," Schneider said. "She's done this job at the high-major level for a long time, as well as in the WNBA."
A native of Sedalia, Missouri, Smith played at Central Missouri in college, and later served at Kansas State as director of operations in the 2006-07 season.
Majors has bachelor's and master's degrees from Pittsburg State, where he played quarterback from 2002 to 2005.