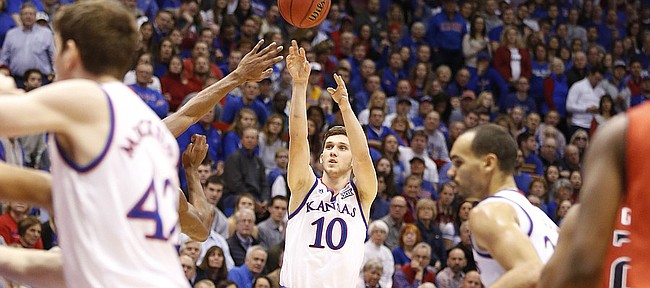 Those held hostage by numbers, which only speak to the past and leave so much to be desired when the topic is the future, probably don't spend much time thinking about the contributions Sviatoslav Mykhailiuk will make next season.
They have moved on because the numbers say that he shot just .306 from the field, .288 from three, had nearly as many turnovers (15) as assists (17) and had just 31 rebounds in 291 minutes.
Good thing those who prefer to let statistics, not their own eyes, tell them what they just witnessed didn't control the fate of Sandy Koufax (57 walks, 60 strikeouts two seasons into his Brooklyn Dodgers career). Koufax was 19 and 20 when he compiled those unpolished statistics.
Svi is 17. Repeat, 17. The Ukrainian sensation was in his first year living in the United States. Away from his family. Facing quicker, more explosive athletes than he played against for most of his life. Lifting weights extensively for the first time.
Don't look at the numbers. Consider the tools. Quick feet. Soft touch. A natural feel for the game at both ends of the floor and in transition.
Another strong recruiting class (Carlton Bragg, Cheick Diallo, LaGerald Vick) landed by Bill Self and assistants understandably has generated a loud buzz. They fill needs, have talent and know how to hustle. Plus, the unknown always creates more excitement than the known because it has no visible ceiling.
Yet, improvement from returning players figures to play every bit as big a part in Kansas having a strong shot at a Final Four appearance.
Devonté Graham, a strong thinker and leader, will get more minutes at the point, enabling Frank Mason to employ his scoring mentality without hesitation off the ball. Perry Ellis was playing out of his mind before suffering a knee injury, and he'll play even better as a senior. He improves every year. Wayne Selden's sophomore slump is history. Hunter Mickelson played well when given minutes and figures to play even better.
And nobody's projected improvement is as substantial as that of Mykhailiuk, a smooth 6-foot-8 athlete who will have a better idea of what to expect in the weight room, on the practice floor and from opponents in games.
Anybody fixated on Svi's freshman-season numbers might want to consider that if NBA scouts were allowed to express their opinions publicly, many of them would cite Mykhailiuk as the top NBA prospect on KU's roster. Even numbers geeks must love that he will be 5.5 percent older.