When senior right-hander Drew Morovick stepped onto the mound to start the eighth inning Saturday at Hoglund Ballpark, Kansas University's baseball team owned a three-run lead and was in complete control of its biggest game of the year.
Two innings later, the Jayhawks' season was effectively finished.
Yeah, Kansas (22-32 overall, 7-15 Big 12) has one game remaining in the Sunflower Showdown — first pitch is slated for 2 p.m. today — but there will be no baseball for the boys in blue after that.
Saturday's fall-from-in-front, 6-4 loss to Kansas State locked the Jayhawks into the ninth spot in the Big 12 standings, which means KU will stay home next week while the rest of the conference heads to Tulsa, Oklahoma, for the Big 12 tournament.
"Obviously, that's a devastating loss for us," KU coach Ritch Price said in front of a disconsolate KU dugout following Saturday's loss. "We got the start from Drew Morovick that we needed to get the ball to (closer Stephen) Villines late in the game. That was a tremendous college baseball game. We just got beat."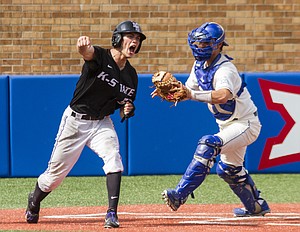 Through seven innings, Morovick had given up just one run and five hits while striking out three and letting his defense play behind him. But in the eighth, three consecutive hits by the Wildcats, which cut KU's lead to 4-2, forced KU pitching coach Ryan Graves to make the move to Villines. Three more hits and two runs later, the teams went to the bottom of the eighth tied at 4.
"I think coach Graves' was trying to get (Morovick) through the two left-handed hitters before he went to Villines," said Price, asked if he gave any consideration to letting Villines start the eighth.
Morovick's confidence and first seven innings certainly might have had some impact on the decision.
"I told Graves I wanted the ball," an emotional Morovick said. "I wanted to battle for my team, and if we were gonna lose, I wanted it to be on my shoulders, nobody else's. It's just hard knowing I let my team down today."
KU catcher Michael Tinsley, who finished 2-for-4 with an RBI, said he felt good about the Jayhawks' sending Morovick back onto the field for the eighth.
"Drew will go 20 innings if it's his choice," Tinsley said. "I didn't see any type of fatigue. It's just they had seen him for eight innings, and they put some good swings on the ball."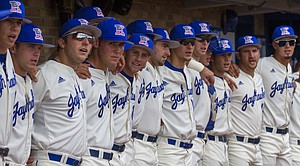 Those swings carried over to the hard-throwing Villines, and K-State scored five runs on six hits in the final two innings. That included a double and a triple in the top of the ninth that gave the Wildcats (26-27, 10-13) their first lead of the day.
"It pretty much sums up our year," Price said of the heartbreaking collapse. "We're real close to being good, and we're not quite good enough to get over the hump."
Now all that's left for the Jayhawks is to try to send seniors Morovick, Connor McKay, Blair Beck, Justin Protacio, Dakota Smith, Colin Toalson and Joe Luvisi out on a winning note.
"We've just gotta do what we've done this entire season, just show up and treat every day like it's a new day," said Tinsley, a sophomore. "We've gotta find a way to salvage the weekend."
Added Price: "We're gonna play to win, obviously. I start the four seniors anyway, and one of the things we preach to our guys is, you gotta play every day.
"So we'll walk in here tomorrow and try to play as well as we played today."
Kansas State 000 100 032 — 6 11 0
Kansas 201 000 100 — 4 10 0
W — Lucas Benenati , 2-0. L — Stephen Villines, 3-5.
2B — Shane Conlon, KSU; Connor McKay, Owen Taylor, KU. 3B — Tyler Wolfe, KSU.
Kansas highlights — Drew Morovick 7 IP, 8 H, 4 ER, 3 Ks; Justin Protacio 1-for-2, run; Connor McKay 2-for-5, RBI; Michael Tinsley 2-for-4, RBI, run; Blair Beck 1-for-4, 2 RBIs.