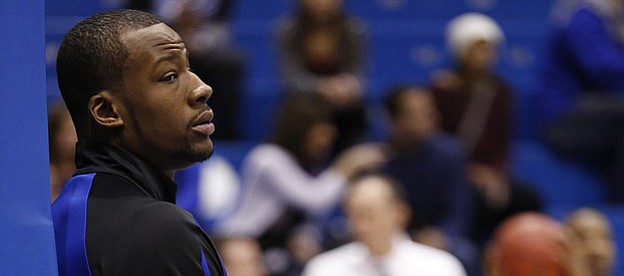 NBA scouts and front-office personnel didn't get to see much of Cliff Alexander in his one season at Kansas University. As a result, the 6-foot-81⁄2 power forward from Chicago said during a media session at the Draft Combine he'll have to prove himself to various teams in the weeks to come.
Alexander only played in 28 games, averaging 17.6 minutes, before declaring for the NBA Draft and didn't finish his freshman season as a KU contributor because the NCAA opened an investigation into possible improper benefits tied to his family.
In an interview posted by BasketballInsiders.com, the troubled big man characterized his up-and-down season as an "OK experience" and was asked why an NBA team should take a chance on him.
"I'm gonna work hard, do what I need to do to earn playing time, compete every time I step on the floor," Alexander responded. "I'm a great rebounder. I can finish around the rim, and like I said, I can alternate shots."
If there is a misconception about his skill set, Alexander claimed, it's that he can't shoot. He hopes to convince teams otherwise when they bring him in for workouts. The big man, who averaged 7.1 points, 5.3 rebounds and 1.3 blocks with the Jayhawks, said he didn't take many jumpers at Kansas, so some scouts might not know about that aspect of his repertoire.
"I can shoot the jump shot. I just have to get it consistent," Alexander said. "I can knock the 15-foot jump shot down, the elbow jump shot down."
Projected as a late-first-round or early second-round pick in the 2015 draft, Alexander said representatives from Washington, New York, Golden State, Memphis, Dallas, San Antonio, Chicago, Houston, Phoenix and other franchises interviewed him at the combine.
Alexander said the NCAA investigation — Yahoo! reported Alexander's mother, Latillia, made a public filing in August, tying her to a financial firm — came up in the sessions.
KU removed Alexander from the lineup prior to its home game against Texas on Feb. 28, and the freshman post player, who was a starter at the time, missed the final eight games of the season. He said he got through the difficult stretch with help from his mother.
"It was hard for me sitting back, sitting on my bed, watching my team play in the tournament," Alexander said. "My mom came out. She supported me big time, helped me boost my confidence."
More like this story on KUsports.com