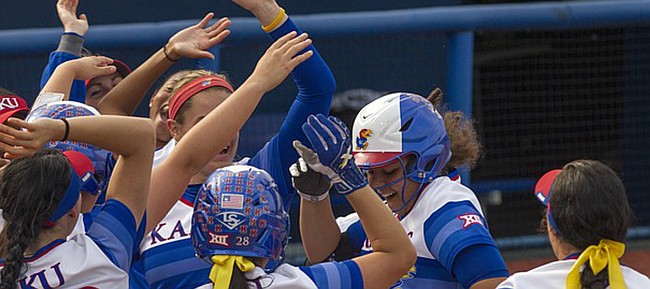 When Kansas University senior Maddie Stein's college softball career comes to a close this spring, she will exit the program as the Jayhawks' all-time leader in RBIs.
As someone who has witnessed the power of KU freshman Daniella Chavez, though, Stein knows her place in the record book won't last long.
A first baseman from El Reno, Oklahoma, Stein broke through at Kansas with a career-best 49 RBIs as a sophomore, in 2013, and has knocked in 150 for her career.
When the Jayhawks open their second consecutive trip to the NCAA Tournament on Friday in Columbia, Missouri, against Louisville, Chavez will take her first postseason at-bat having already driven in 65 runs.
"That's just crazy," Stein said of the designated hitter's first-year production. "That's awesome for her."
Chavez leads KU with 15 home runs — on a pace of one every 10 at-bats — and has a .353 batting average to go with her .693 slugging percentage. The freshman from Crowley, Texas, smacked a homer in each of the Jayhawks' three victories at Iowa State to close the regular season and become the program's all-time leader for RBIs in a season.
Kansas coach Megan Smith said the staff recruited Chavez knowing she had tremendous offensive potential.
"I think any time a freshman is kind of the one that leads your team, carrying the heavy load for you offensively, I think that's unique," Smith said. "But we knew she had the ability and the talent to do that."
Chavez revealed she wasn't so sure.
"I figured I would impact the team and help the team, but not this quickly," she admitted. "It's pretty exciting, and I'm honored to be able to help this program."
The first eight games of the season, Chavez went homer-less. But No. 99 found her stroke in a Valentine's Day massacre at New Mexico State, when the Jayhawks demolished the Aggies, 25-12, and the freshman joined teammates Stein, Chanin Naudin, Jessie Roane and Taylor McElhaney with a four-bagger.
KU junior Chaley Brickey, who leads the team with a .393 average and a .718 slugging percentage, remembers that game as the turning point for her young teammate.
"Every time we seem to be in a situation where we're down a run or have runners on base," said Brickey, who is second on KU with 55 RBIs, "she's seemed to be that person who comes through for us, and that's really awesome."
Last spring, when KU traveled to Missouri for its 2014 NCAA regional, the Jayhawks won their opener against Nebraska, but dropped their next two games against border rival Mizzou and the Huskers. Brickey thinks Chavez can be a difference-maker for the Kansas offense this time around.
"The clutch-ness," Brickey said. "I don't think we had that type of player."
Few Jayhawks appreciate Chavez's pop as much as senior pitcher Alicia Pile (23-6, 2.90 ERA, 1881⁄3 innings pitched). The staff ace knows a game can change with one swing.
"It doesn't matter if she just swung and looked dumb on a change-up," Pille said. "The next pitch she just has the same face and is ready to go after it. And then the next at-bat, she'll hit that change-up out. It's crazy."
Jayhawks honored: Chavez was named co-Freshman of the Year, and four other Jayhawks were honored by the Big 12 on Wednesday.
Chavez shared her award with Oklahoma's Paige Parker.
Chavez was named to the All-Big 12 first team, along with teammate Brickey, a junior shortstop. Stein was named to the second team.
Stein, Brickey and sophomore second baseman Taylor McElhaney were named to the Big 12's All-Defensive Team, and Chavez and catcher Jessie Roane made the All-Freshman Team.
More like this story on KUsports.com