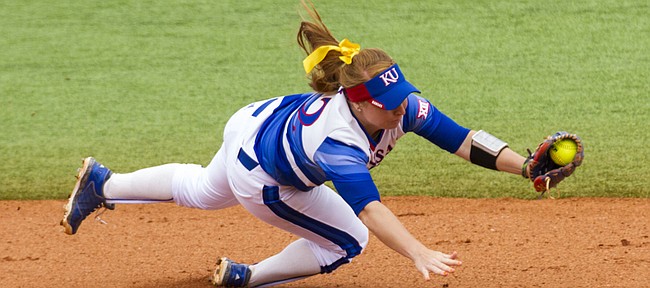 A year ago, Kansas University's softball players packed their gear and headed into their first NCAA Tournament blind. The program hadn't been invited to compete in a postseason regional since 2006 before coach Megan Smith's Jayhawks busted out of the slump in 2014.
Now that KU returns to the tournament — and University Field, in Columbia, Missouri — for a second consecutive year, the Jayhawks have postseason experience to embolden them when they open the weekend against Louisville (30-17) at noon today.
The game was moved up four hours because of the threat of inclement weather.
Both junior Chaley Brickey and senior Maddie Stein provided offensive pop last spring at the home of the Tigers, when KU beat Nebraska in regional play, but lost a Border War with Missouri and a rematch with the Huskers. Brickey delivered a three-run homer versus Mizzou and Stein produced two hits in two of the three games.
"Chaley and Maddie have done big things for us all year because of their experience," Smith said, "and I think we'll look to them again."
The Jayhawks scored a combined five runs at last season's regional, so Stein (.368 batting average, 41 RBIs this season) and Brickey (.393, 15 home runs, 55 RBIs) realize how much the team might have to lean on them.
"For me, any time there's a big game, I try to contain my excitement," said Stein, a first baseman from El Reno, Oklahoma. "More than anything, I'm just gonna try to relax and do simple things that have been working for me all year."
Brickey, a shortstop from Haltom City, Texas, certainly won't step into the batter's box swinging for the fences on every pitch.
"I try not to think about those things, but it definitely feels good," she said of having a regional home run on her résumé, "and hopefully I just go there and hit well. I hope the whole team does."
Projected KU starters Brickey, Stein, Chanin Naudin, Alicia Pille and Taylor McElhaney all started in the postseason a year ago. So did reserves Taylor Dodson and Lily Behrmann. Jayhawks Shannon McGinley, Sophia Templin and Beth Wilson also experienced regional action.
Pille (23-6, 2.90 ERA, 188.1 innings, 184 strikeouts) said the Jayhawks (38-13) won't have so many nerves disrupting them this weekend in Columbia.
"I think the biggest thing is to not make too big of a deal out of it," the senior pitcher said. "Last year, I think we still did well, but obviously our goal this year is to win a regional and get as far as we can."
Looking back at the 1-2 showing in 2014, Smith said KU lacked offensive strength. The coach said Kansas has improved in that area this season, with freshmen Daniella Chavez (.353, 15 home runs, program-record 65 RBIs) and Jessie Roane (.340, 11 doubles) helping the cause.
"It's also good to have those freshmen that just go in, nothing to lose, and don't know what they're doing and just play," a smiling Smith said.
Brickey agreed more offense would be nice, and said the addition of associate head coach John Rittman should benefit the Jayhawks, too.
"During the game, if there's something wrong with someone's swing," Brickey said, "he can always help us right then and there."
Other than that, Brickey said the game plan is to have fun. Stein thinks the Jayhawks should be able to avoid putting too much pressure on themselves, now that they possess tournament know-how.
"I feel like we're a lot more relaxed about it," Stein said. "I mean, we're just as excited — we were super-pumped last year — but at least it's more of a contained excitement."
NCAA Softball Columbia Regional
Today
Noon — Game 1: Louisville vs. Kansas
3 p.m. — Game 2: Missouri vs. Indiana State
Saturday
2:30 p.m. — Game 3: G1 winner vs. G2 winner
5 p.m. — *Game 4: G1 loser vs. G2 loser
7:30 p.m. — *Game 5: G3 loser vs. G4 winner
Sunday
Noon — Game 6: G3 winner vs. G5 winner
2:30 p.m. — *Game 7: G6 rematch (if necessary)
More like this story on KUsports.com