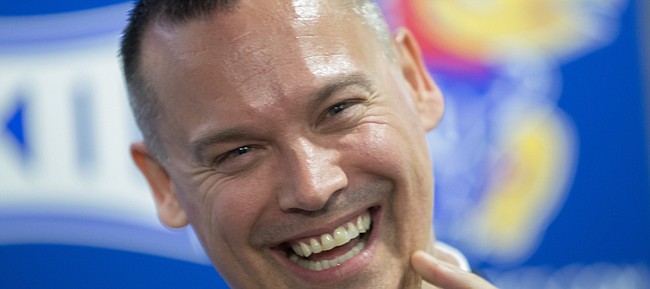 Kansas University women's basketball coach Brandon Schneider on Wednesday continued with the reunion theme in filling out his coaching staff.
Like fellow assistants Katie O'Connor, who Schneider retained from KU's previous staff, and Damitria Buchanan, who once worked with Schneider at Stephen F. Austin, Wednesday's addition of Aqua Franklin as the third full-time member of the first-year coach's staff marked a return to Lawrence for KU's new associate head coach.
In 2011-12, Franklin worked in Lawrence under former KU coach Bonnie Henrickson. She spent the previous season working under Schneider at Stephen F. Austin.
"I believe Coach Aqua to be one of the premier recruiters in the country, and the signing classes she has been a part of prove that point," Schneider said of Franklin in a news release.
Franklin spent the last three seasons at Mississippi State, mentoring the backcourt and working as the Bulldogs' recruiting coordinator. She was instrumental in helping put together one of the top classes in school history which finished ranked in the Top 20.
A 2009 graduate of Texas A&M;, Franklin led the Aggies to three NCAA Tournament trips, including one run to the Elite Eight. After playing for both Sacramento and Seattle in the WNBA, she returned to her alma mater to begin her coaching career.
"The fact the she was a Big 12 Champion, led her team to an Elite Eight and played professionally both overseas and in the WNBA gives her instant credibility both with current and future players," Schneider said. "She is a terrific teacher on the court and has a great feel for how to develop young players. Our student-athletes will benefit tremendously from her experience, expertise and leadership."
More like this story on KUsports.com