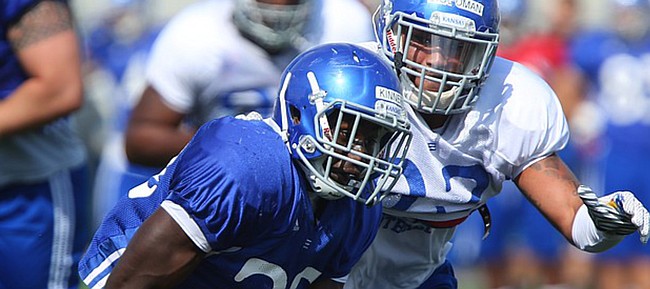 Sometimes, it's easy to predict a college football team's MVP coming into a year, as was the case with Kansas University in advance of Todd Reesing's final two seasons.
Other times, it's a challenge, which can be either a good or bad thing.
Three players from the 2014 KU roster were drafted and eight others invited to NFL training camps, which meant plenty of candidates existed a year ago. Most would have guessed linebacker Ben Heeney and would have been correct. He also happened to be the first Kansas player drafted.
Trying to forecast a 2015 MVP also results in a crowded field, although none of the candidates has proven as much at this point in his career as had a dozen or so players heading into last season.
Nigel King, who declared himself eligible for the NFL Draft and signed a free-agent contract with the Miami Dolphins, would have made the list. Ditto for graduating strong safety Isaiah Johnson, who will play for South Carolina in 2015.
I'm not expecting Corey Avery, last season's leading rusher, to play again here after being put on "indefinite suspension," along with wide receiver Rodriguez Coleman. Those two don't make the list.
Michael Cummings, an A-plus player in terms of attitude, smarts and maximizing ability, would have been a candidate, but his knee injury makes him a longshot to play in 2015.
Still, every team has an MVP, so why not forecast the field?
The candidates, listed in reverse order of their chances of developing into the MVP of the 2015 Kansas football team:
7. Montell Cozart: Included on this list in the event he switches from quarterback to wide receiver, where his long, lean frame, speed and ability to make quick cuts give him big-play potential. I asked Pro Bowl cornerback Chris Harris of the Denver Broncos if he thought Cozart could play receiver if the coaching staff ever decided to go in that direction. "He'd have a good chance of being the best receiver on the team," Harris said. Given that Harris makes such a nice living (five-year, $42 million extension, $24 million guaranteed, including $10 million signing bonus) covering the world's best receivers, he ought to know a good prospect when he sees one.
6. Andrew Bolton: His brute strength and good feet give him the potential to become a destructive force at defensive tackle, but only if he can keep his motor revved daily in practice and on every play in games. The latter tends to naturally follow the former, so his practice habits in summer conditioning and fall camp will go a long way toward predicting what sort of senior season he'll produce.
5. Ben Goodman: At many Big 12 programs he might be considered a 'tweener who lacks the speed to play defensive end, the size to play inside. At Kansas, his experience at different positions on the line and his upbeat personality, tremendous energy and effort make him a respected, inspirational leader.
4. Tevin Shaw: An all-state running back out of Piscataway, New Jersey, Shaw will have a chance to show family and friends how well he has developed as a nickelback when Kansas visits Rutgers. Turnovers represent the best means of keeping opponents from scoring on KU's inexperienced defense and Shaw, a fast, strong, hard hitter, is well equipped to create them with explosive tackles and interceptions. He could be primed for breakout junior season.
3. Damani Mosby: Defensive end listed at 6-foot-3 and 239 pounds showed his talent during spring football practices by using his quickness getting into the backfield to make tackles for losses. A junior-college transfer, Mosby spent his first season at Kansas as a red shirt.
2. Jordan Shelley-Smith: Since switching from tight end to offensive tackle during fall camp, former tight end has put on 50 pounds, in part by setting 3 a.m. alarm every morning through the end of last season in order to drink a protein shake. As the team's left tackle, he will be entrusted with protecting the blind side of whichever freshman quarterback, Carter Stanley or Ryan Willis, plays. The healthier a young quarterback stays, the quicker he develops.
1. Ke'aun Kinner: Playing for Little Elm High in Texas, in one game he carried the ball 55 times and rushed for 332 yards and four touchdowns. Was on the radar of national powerhouses who waited to see if he would qualify academically before offering. He fell short and headed to Navarro (Texas) Junior College, where he averaged 1,918 rushing yards in two seasons and in 2014 was NJCAA Offensive Player of the Year. At 5-9 and maybe 180, he's a small target who makes himself even more elusive by running with pads low to the ground. Extremely strong for his size, he impressed KU's coaches with his vision and balance. Canadian Football League star Jon Cornish holds KU's single-season record with 1,457 yards, an average of 121.4 yards per game. Might as well aim high.
It's a list that lacks proven producers, but somebody will emerge. Someone will take the opportunity and run with it all the way to stardom. It happens every year, everywhere.