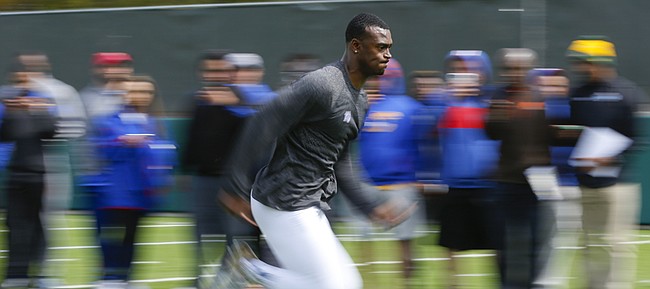 All JaCorey Shepherd wanted was a chance.
When the defensive back from Kansas University didn't hear his name called until the sixth round of the NFL Draft last weekend, he made up his mind right then. Yes, Shepherd wanted to get picked before Philadelphia selected him 191st overall. But, no, he wouldn't consider this a setback.
"For me to get the opportunity to come in and be able to compete right away, that's all I need," the 2014 All-Big 12 first-teamer said on draft day. "That's all I want to know."
Shepherd grew up playing football in Mesquite, Texas, just outside of Dallas. But he said the nearby Cowboys, one of the Eagles' NFC East rivals, never earned his affection. The receiver-turned-cornerback began working toward his dream of becoming a pro in middle school. Along the way, he decided not to have a favorite NFL team because he didn't want to go into the league with any sort of bias.
Sure, Shepherd had favorite players as he watched through the years, and others he admired. Former Philadelphia stars Mike Vick, DeSean Jackson and LeSean McCoy captured his attention at one point or another.
Now the 5-foot-11, 199-pound defensive back finds his interest in the Eagles' personnel piqued, particularly in the secondary, where he wants to break through as a contributor.
A left hamstring tear, resulting in slow 40-yard-dash times (4.65 and 4.68 seconds) at KU's pro day, caused Shepherd to slip in the draft, but he received assurances from Philadelphia coaches that they weren't worried about the injury.
"They told me to get myself ready," Shepherd said, "and come in ready to compete."
His NFL journey began this week at the Eagles' rookie mini-camp, where the battle for playing time officially began. Philadelphia entered the draft needing depth in the secondary. The organization addressed it by taking three corners: second-round pick Eric Rowe (Utah), Shepherd and sixth-rounder Randall Evans (Kansas State).
Though Rowe played safety and corner in college, the Philadelphia Inqurer's Zach Berman reported the Eagles are using the 6-1 Utah product exclusively at corner. Shepherd also played cornerback at minicamp, but he told CSNPhilly.com he expects to get reps in the slot and at safety as well.
None of the three draftees project as starters. Philadelphia signed veteran corners Byron Maxwell, Walter Thurmond and E.J. Biggers in free agency. Plus, the Eagles have corners Nolan Carroll and Brandon Boykin back from 2014's 10-6 team.
According to the Eagles' website, defensive-backs coach Cory Undlin demands his corners play assertively at the line of scrimmage, so receivers don't get a running start. Shepherd told the website he and his fellow rookies know they're not going to win every one-on-one matchup as they try to acclimate themselves to the professional ranks.
"That's the nature of the position," Shephard said. "You can't let that bother you. You need to get right back out there and do your job."
The confident young corner out of KU told CSNPhilly.com he prefers that approach as a defender, and the man coverage he ran as a Jayhawk taught him how to make that style work for him.
"You can't run if you can't move, so if I get my hands on you, you can't go nowhere," Shepherd said. "Or if I get my hands on you, that's going to disrupt his speed, so that 4.2 goes to a 4.4 or 4.3. I don't care what he is, what he runs. I'm getting up there, and I'm challenging him."
As a sixth-round pick on a team with options in the secondary, Shepherd knows he'll have to fight to earn a roster spot and playing time.
Not that he's worried about it. All he asked for was a chance.
"I don't like nothing that's easy," Shepherd told CSNPhilly.com. "I never had nothing handed to me, always had to earn it and prove myself. So I'm going to a situation where I've got competition here as well. I think that benefits me, because you actually get the best out of me when I do have competition."