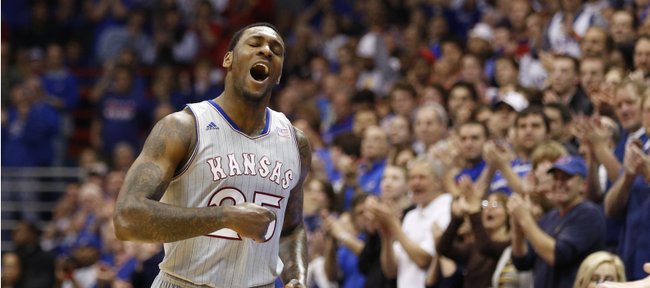 Tarik Black, who played at Kansas University just one season after three at Memphis, said he felt the complete support of Jayhawk Nation during an ultra-successful rookie campaign in the NBA.
"Everytime I did well the KU coaches would get in touch with me. They'd say they were proud of me," said the 6-foot-9, 250-pound Black, who, as an undrafted free agent, wound up starting 39 of 63 NBA games in 2014-15 with the Houston Rockets and Los Angeles Lakers.
"On top of that, all the people from Kansas ... the fans would get with me on social media. They'd contact me on there. They showed me appreciation and support for what I've been doing and how I've been moving forward."
Black has spent the past several weeks in Lawrence, recuperating and regenerating after a grueling NBA indoctrination.
He averaged 4.2 points and 5.1 boards in 15.7 minutes a game with the Rockets, then after getting released and signing with the Lakers, averaged 7.2 points (off 58.9 percent shooting) and 6.3 boards. He started 27 of 38 games and logged 21.1 minutes per contest in L.A.
"It was sad. I was comfortable there. We had a good team with a chance to do some nice things. When I got released I didn't know what my future would hold," Black said of being let go by Houston, where he bonded with "big brother" figure Dwight Howard.
"I didn't know if I'd go to a place where they'd play me as much. That was my first thought. At the same time, when I sat down and started praying about it, it was like, 'Man, God's got you. He'll place you in an even better situation.' That's the glory of his works. He took me out of a good situation into one better situated for me, one that was a better opportunity for me. I saw my numbers jump with the Lakers. I was blessed in making the move, but at the moment it happened, it was tough."
The Rockets were fond of Black but had to let him go to make room for newly acquired forward Josh Smith.
"Tarik did a great job," Rockets coach Kevin McHale told the Houston Chronicle after Black was released right after Christmas. "I told him he'll be picked up in our league. I told him in preseason, I said 'Tarik, you have to go out and open people's eyes. You didn't get drafted.' But he came in and had 15 rebounds in a (preseason) game. Everybody around the league was saying, 'Dang, what did we miss on Tarik Black?' He's a great kid. I really liked coaching him. A wonderful young man."
Black has one year left on a two-year, non-guaranteed contract worth $1,352,395 ($507,336 guaranteed). He'll play summer league for the Lakers and obviously is expecting to be back, considering how much he played last season.
"It was awesome. I always wanted to play in L.A., from the time of the draft when I worked out there," he said. "When I was traded out there, it was like, 'It's awesome being out here again.' Who knew I'd have the opportunity to be a starter? I didn't even know I'd be in the NBA. It was awesome."
Black, who has been staying at the home of Christian Garrett's parents during his visit to Lawrence, has worked out some with KU's players.
"It was a long season, I'm getting back into it now, though," Black said. "I've been working on getting back in school, finishing my Masters (degree next summer). I've worked out with Frank (Mason), seen some of the guys. I'm very proud of them all. That's a very talented team."
The 23-year-old Black said it's been fun spending time with Garrett, who has said he hopes to play ball somewhere next season, following next week's graduation ceremonies.
"I'm proud of Christian," Black said. "Taking himself to new heights ... him also being a brother of faith. Things can happen for you that aren't expected by others. I feel he's on the rise and it will be interesting watching him move forward in life."
The Garrett family simply loves having Tarik around.
"In all my years here I've never seen anyone so quickly steal the hearts of an entire community, us included," Cynthia Garrett, mom of Christian, said. "As evidenced by the fact our homes here and in California are always his homes. He's such a great brother to my son."
Recruiting: Former SMU commit LeGerald Vick, a 6-5 shooting guard from Douglass High in Memphis, will visit Kansas State this weekend, KU on Wednesday or Thursday and Kentucky next weekend, Rivals.com reports. He's ranked No. 137 in the Class of 2016, but planning to reclassify to 2015 and be eligible to play in 2015-16.