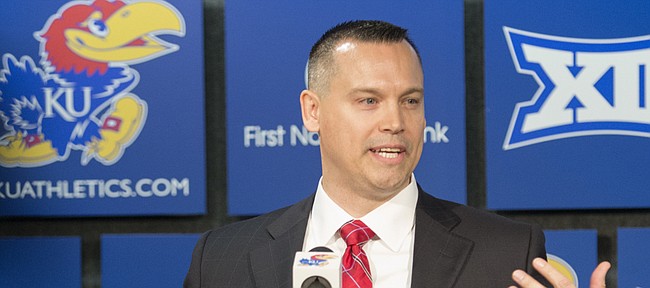 Newly named Kansas University women's basketball coach Brandon Schneider, who officially took over the program in April, on Tuesday announced the names of two members of his first KU coaching staff.
Former Kansas assistant Katie O'Connor, who worked under Bonnie Henrickson and served as the program's interim head coach after Henrickson was let go, has been retained.
"From afar, I've always admired the job Coach Katie does both in recruiting and coaching on the floor," Schneider said in a news release. "I greatly respect the role she played in the development of front line players like Crystal Kemp, Carolyn Davis, and most recently, Chelsea Gardner. Her work ethic is second to none and I'm elated we could convince her to remain a Jayhawk."
Schneider also announced the hiring of assistant Damitria Buchanan, who comes to Kansas after two seasons at Texas Tech. Before her time at Tech, Buchanan worked under Schneider at Stephen F. Austin.
"I believe Coach D is one of the top up-and-coming assistants in the country," said Schneider. "She is a relentless recruiter and has a unique ability to build and cultivate relationships with players. She will be a terrific role model for our student-athletes."
A two-time Academic all-Big 12 First Team selection and team captain at Texas A&M;, Buchanan helped the Aggies to three Big 12 titles and four top-25 finishes, including three top-10 finishes in each of her final three seasons.
"Coach D and Coach Katie will be outstanding assets in all phases of our program," said Schneider, who said at his introductory news conference that he preferred to be called "Coach Brandon."
Schneider still has one assistant coach vacancy to fill before the KU women's basketball staff is complete.