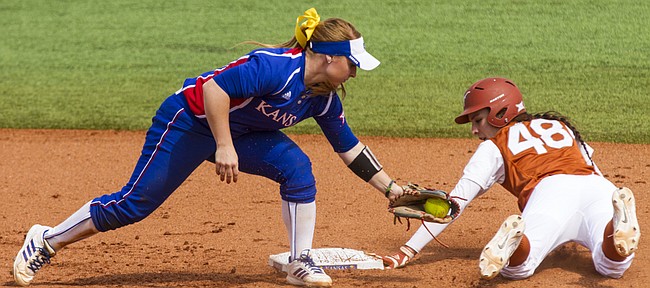 Five solo home runs and a loading of the bases in the bottom of the seventh inning were not enough to save Kansas University from a softball sweep by Texas.
Thanks to a pair of three-run innings by the Longhorns (23-9 overall, 3-0 Big 12), who pounded out 35 hits during the three-game, weekend sweep, No. 22 KU opened Big 12 play with three consecutive losses, the last of which was a 7-5 setback on Sunday at Arrocha Ballpark at Rock Chalk Park.
"Instead of sticking to what we do well and outworking teams, I think we kind of rolled in here thinking we're better than we are," KU coach Megan Smith said. "And you can't ever do that."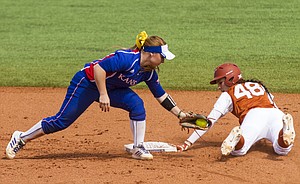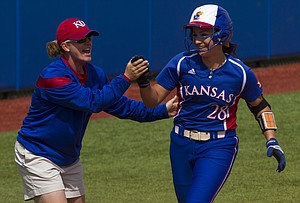 The Jayhawks (29-5, 0-3) were held to 11 hits during the first two losses of the series on Friday and Saturday but matched that total Sunday.
That included the five home runs — an explosion that also happened in a mid-February victory and was one shy of tying a school record — and a pair of hits in the bottom of the seventh that helped load the bases and put the winning run on first base. But a foul out along the first-base line and a strikeout by junior center fielder Briana Evans on a full count sealed the Jayhawks' fate.
Despite coming up short, Smith and senior third baseman Chanin Naudin said the seventh-inning rally, which began with a solo home run from junior shortstop Chaley Brickey, made the sweep easier to accept.
"The fight was good," Smith said. "But I still think we've gotta work harder."
Added Naudin, who joined Brickey, Daniella Chavez (2) and Lily Behrmann in launching home runs: "If we get knocked down, that's fine. But we need to keep fighting. We did that (in the seventh inning), and that's how we play. So we just need to do that the whole game, and we'll be fine."
It's rare for a team to hit five home runs in a game and lose, but Naudin said the bad break for Kansas was a product of not getting enough runners on base and fighting on every pitch. Smith looked at it differently.
"You're glad you get 'em," Smith said of the home runs. "But I felt like we had opportunities to score more runs. Not very clutch. Solo shots aren't clutch hits. Those are great, but that's not showing that you can come through in pressure situations, and I think we struggle with that offensively."
Although the series sweep was not the way the Jayhawks wanted to follow up a fantastic nonconference season during the opening weekend of Big 12 play, Naudin said no one was panicking in the locker room.
"Obviously it's disappointing, and it's good to take it hard and take it personally," she said. "But now it's important that we know that we have a lot of season left to rebound from this. Anything can happen in Big 12 play. You can get swept one weekend and go sweep someone the next."
KU will travel to Oklahoma State this weekend for a three-game series Thursday through Saturday.
Texas 103 030 0 — 7 14 0
Kansas 111 010 1 — 5 11 1
W – Erica Wright, 10-4. L – Sophia Templin, 3-1. Sv – Kristen Clark, 1.
2B: Kelli Hanzel, UT; Jessie Roane, KU. 3B: Stephanie Wong, UT. HR: Lindsey Stephens, UT; Lily Behrmann (5), Chaley Brickey (8), Daniella Chavez 2 (8), Chanin Naudin (6).
KU highlights: Chavez 3-for-4, 2 HR, 2 R, 2 RBIs; Naudin 2-for-3, HR, R, RBI; Behrmann 1-for-4, HR, R, RBI; Brickey 1-for-4, HR, R, RBI; Taylor McElhaney 2-for-3; Alicia Pille 4 2/3 IP, 6 H, 3 R, 4 K.
More like this story on KUsports.com