Barring an unforeseen mishap, such as somebody slipping in the shower this morning, Kansas University's basketball team should be relatively healthy heading into an 11:15 a.m., second-round NCAA Tournament game against New Mexico State.
"We're better off than we were the last three weeks. I'm excited about that," KU coach Bill Self said after Thursday's 40-minute shootaround in CenturyLink Center.
"Wayne's ankle is fine," Self stated of Wayne Selden Jr., who has been slowed by a right ankle sprain. "Landen (Lucas, hip, knee, back injuries) is doing better. He's been able to practice a couple times this week. Perry has (practiced) three days in a row. He looks good," Self added of junior forward Ellis, who has been wearing a brace to protect his sprained right knee.
Photo Gallery
Kansas Jayhawks open practice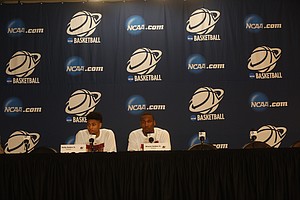 Images from the Kansas Jayhawks Thursday, March 19, 2015, at the CenturyLink Center in Omaha, NE.
"Perry seems to have his confidence back. Not from a shooting standpoint, but a competitive-bounce, aggressive standpoint. Even the moves he practiced on his own today were moves that gave him problems last week. He's done a good job of rehab. I'm not saying he's making shots at an 80 percent clip now. He's close to being back where he was before he was injured."
Sophomore forward Lucas said: "I feel great. Coach gave me some rest this week. I've been able to recover and regroup. I feel good."
Sophomore Frank Mason III, who has played a lot of minutes at the point this season, also has had an assortment of bumps and bruises.
"My legs feel great. I feel good. I've had a couple days to get my body right. I've gotten my rest, got in the cold tub. I'm pretty excited for tomorrow (today)," Mason said.
Junior forward Jamari Traylor noted: "We've had a couple days to get healed up and rest. Guys were looking good today, feeling confident. We've had a week to get our bodies ready (since Saturday's loss to Iowa State). Guys are healing and getting treatments in."
Breakfast in Omaha: Friday's 11:15 a.m. start presents a challenge. "Everybody has to be ready," Traylor said. "It's an early game, but so what? You've got to be ready. We'll wake up early, make sure we eat breakfast, get our energy right. You've got to do what you've got to do. Nothing is more important than this first game."
Repeat performance?: Forward Jamari Traylor scored 17 points and grabbed 14 rebounds in last year's NCAA-opening victory against Eastern Kentucky.
"I've got to have a motor, got to be aggressive and confident," Traylor said. "I've got to spark the team. I will be looking forward to being turned up and motivated."
The tweeter: Former KU center Joel Embiid of the Philadelphia 76ers tweeted about Iowa State after the Cyclones' loss to UAB on Thursday.
"Well at least they made it to the second round.......#Clone," wrote Embiid.
Selden, on KU's 26-8 season: "It's been an up-and-down season, but I feel like right now is when it really matters. Like playing right now is when it matters. Trying to win games, trying to advance and to do whatever it takes for your team to do so. That's what I'm trying to do, just trying to do whatever it takes for us to advance."
Mum is word: Freshman Cliff Alexander did not practice with the Jayhawks on Thursday and was not in Omaha with the Jayhawks. Rumors exist that Alexander met with the NCAA this week regarding his eligibility issue. Alexander's attorney did not return a message asking for clarification.
"We miss him. We wish he was here. At the same time, we have to move forward and not look back," Mason said. "We need to concentrate on this game and people that are here."
Kaun update: Former KU center Sasha Kaun will leave his CSKA Moscow team in July and may wind up with the NBA's Cleveland Cavaliers next season, sportando.com reports. Kaun, who was taken in the second round of the 2008 NBA Draft, has been coached by the Cavs' David Blatt with the Russian National team. He is averaging 9.6 points and 4.7 boards per game in the Euroleague this season.
This, that: KU leads the all-time series, 2-0, with New Mexico State. KU won, 102-51, on Dec. 7, 1965, and 100-79 on Dec. 3, 2008, both in Allen Fieldhouse. ... KU has won eight straight opening NCAA Tourney games. ... This marks KU's 26th consecutive NCAA Tournament appearance, the country's longest active streak. It ranks second all-time. North Carolina had 27 straight from 1975-2001. ... Self has led KU to a 26-10 record in the NCAAs. ... KU is 96-42 all-time in the NCAAs. The 96 wins trail only Kentucky (116), North Carolina (110), Duke (99) and UCLA (97).
Frankly speaking: Mason on ....
• How to combat the jitters: "Come out hard, compete, take no possessions off, enjoy the game we love."
• Media and fans discussing a possible meeting with Wichita State in the third round: "We don't care about what everyone is talking about. We're focusing on things we need to do to win in the end."