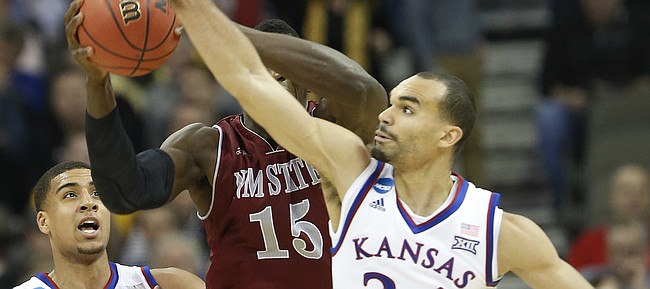 Omaha — Perry Ellis' childhood home was located a stone's throw from Wichita State University.
"Pretty much just around the corner," Ellis, Kansas University's junior forward from Wichita, said Friday after scoring nine points in the Jayhawks' 75-56 NCAA Midwest Regional Round of 64 victory over New Mexico State in CenturyLink Center.
"I did go to a few of those," he added of Wichita State basketball games.
Ellis, for the first time in his three-year KU career, prepares to play against his hometown school. KU's win over the Aggies, coupled with the Shockers' victory over Indiana, sets up Sunday's Round of 32 Sunflower State battle. Winner advances to the Sweet 16 in Cleveland; loser calls it a season.
Photo Gallery
Kansas basketball vs New Mexico State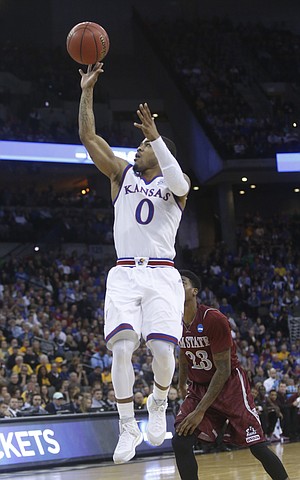 Images from the Kansas Jayhawks second-round NCAA Tournament game against New Mexico State Friday, March 20, 2015 at the CenturyLink Center, Omaha, Neb.
Podcast episode
Kansas basketball coach Bill Self saw his team make 9 of 13 three-pointers Friday in Omaha, where the Jayhawks advanced to the next round of the NCAA Tournament with a 75-56 win over New Mexico State. KU had seven players who scored seven or more points. Self discussed those topics ...
KANSAS 75, NEW MEXICO STATE 56
"I mean I love Wichita. I respect the program and everything," Ellis said. "I love where I'm from. It was great for me growing up."
Daniel Fowler, who has worked with Ellis as head of Wichita's Via Christi Hospital St. Francis' Cancer Wellness Program, recently told the Journal-World that even "fans who (live in Wichita and) hate KU have nothing but good things to say about him as a person."
"Definitely when I go home there's a lot of Wichita State fans who really appreciate what I do. It's humbling," Ellis said.
He was asked if playing WSU would "mess with his head" on Sunday.
"No man, I don't think so," he stated. "It's just basketball. That's how I see it."
KU coach Bill Self acknowledged the importance of Sunday's game. Tipoff is set for 4:15 p.m.
"It'll be one of the most talked about games in state history I would assume," Self said, "which would be great without question.
"My personal opinion is Wichita State is not a 7-seed. You can't tell me there's 24 teams in the country better than them. No way. From that standpoint, we know it'll be extremely difficult."
Self was asked if he has heard a lot from fans about wanting KU to schedule WSU.
"I really don't," he said. "I don't get on the Wichita State message boards that often. I've never been on a message board since I came to Kansas. It'll be talked about. I feel it a little bit from media. I don't read that stuff or follow it. If it is talked about, I don't actually hear it much.
"Gregg (Marshall, WSU coach) and I don't talk about scheduling. Not talking to their staff (but) I bet they don't talk about it as much as everybody else talks about it," Self added.
Several KU players work various summer camps with Shockers players.
"I worked camp with Ron Baker," said KU's Brannen Greene. "I know a couple guys, of course, Conner (Frankamp, transfer from KU who will be eligible to play in games next season). We do know them, but we've never played them so there's not much of a rivalry or anything like that."
Greene said the Jayhawks haven't talked much about playing WSU in the NCAAs.
"We actually saw it in the brackets when we were at our little Selection Sunday (party)," Greene said. "When we saw it we said, 'Whoa.' It kind of caught us off guard. We are looking forward to whoever we have to play."
Self on Perry Ellis' play in his 23-minute stint in the Jayhawks' 75-56 win: "He just doesn't have the same explosiveness, the same bounce. To me he looked very tentative and he got off to a rough start, had a dunk he missed and layup right after that he missed and it looked like right after that he didn't explode on it. I would say he's probably 70 percent today with the potential to be 100 percent tonight, because I don't think it (sprained right knee) is anything structural.
Self on Brannen Greene busting a slump by hitting two threes: "Knowing Brannen it's all mental. No, Brannen needed to see the ball go in the hole and even though it may not have seemed like much, but the last shot of the Iowa State game (Big 12 final) when the game was over, I thought it was nice even to see that one go in the hole. Everybody needs to see it go in and he hasn't seen it go in for two or three weeks, so that was nice," Self said.
Self on the Big 12 losing three games on the first day of the tourney: "We got off to a rough start yesterday, but hopefully everybody will play great today and moving forward," he said. "We want to carry the banner or whoever is standing carry the banner for the league. The way I stressed it to these guys is they need to carry it for each other far more than everybody else. The league is important and we want the league to do great, but we really want Kansas to do well more than anything else and I want these guys to play for each other and enjoy as much fun as they possibly can with each other."
Pollard scores: Freshman Josh Pollard scored his first career points off an inside bucket to conclude the scoring.
"It was a lot of fun," Pollard said of getting on the board in such a big game. "It happened so fast. I took it in after I was running back downcourt. Svi (Mykhailiuk) came down the lane. The big guy came up to help. He dished it off to me. I give it (credit) to Svi," Pollard said.
---
More news and notes from Kansas vs. New Mexico State in the NCAA Tournament
---