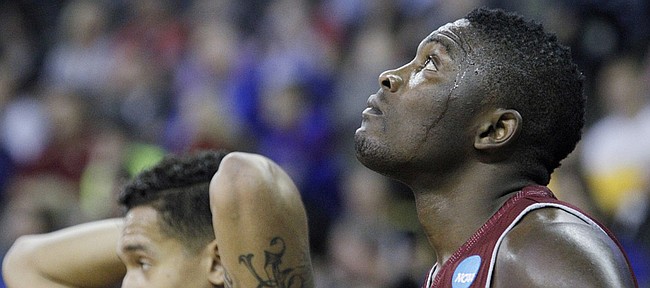 Omaha — He made just three shots in 32 minutes and took a beating every trip down the floor.
Holding New Mexico State big man Tshilidzi Nephawe to just 10 points may not have been the only key to Kansas' 75-56 victory in the opening round of the NCAA Tournament at CenturyLink Center on Friday, but it definitely did not hurt.
"We were doing some good things, trapping him and things like that, and I just felt like we did a good job holding him down on that block," KU junior Jamari Traylor said. "He got a couple baskets, but he had to work for 'em."
Photo Gallery
Kansas basketball vs New Mexico State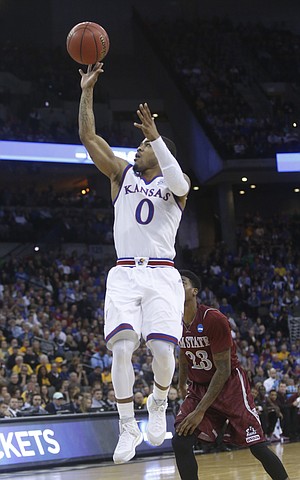 Images from the Kansas Jayhawks second-round NCAA Tournament game against New Mexico State Friday, March 20, 2015 at the CenturyLink Center, Omaha, Neb.
Podcast episode
Kansas basketball coach Bill Self saw his team make 9 of 13 three-pointers Friday in Omaha, where the Jayhawks advanced to the next round of the NCAA Tournament with a 75-56 win over New Mexico State. KU had seven players who scored seven or more points. Self discussed those topics ...
KANSAS 75, NEW MEXICO STATE 56
And it was not just the Jayhawks (27-8) whom Nephawe chose to work against. All game, when the officials called fouls on Kansas, Nephawe would lean into the ref and explain to him that they had been fouling him all game. Although that physical style is one Nephawe always has embraced, the 6-foot-10, 268-pound forward from South Africa admitted after the game that it got into his head during Friday's loss.
"In the beginning, yeah, I (got) frustrated a little bit," Nephawe said. "They're big. They've got long arms. They double-teamed me right on the catch and there was just nowhere to go."
KU sophomore Landen Lucas was the one Jayhawk who mixed it up with Nephawe more than anyone. And whenever the physical pounding and constant contact momentarily subsided, Lucas couldn't help but throw a little trash talk Nephawe's way.
"I just enjoyed it," Lucas said. "It sounded like he was looking forward (to a physical game) and that's something that I enjoy, so we went at it. We both played hard and I respect him for that."
As for the extra chatter, Lucas said using words as one of his weapons just happened.
"I enjoy that, too," said Lucas with a smile. "But as soon as the game was over I went over and shook his hand and told him good job. But that's fun for us. It makes it a more competitive game and gets me more mentally into the game, as well."
Nephawe didn't mind the jawing.
"We did a little bit," he said. "But it was friendly. He was not bashing me or anything."
Despite Nephawe's struggles inside, several Aggies (23-11) said KU's hot three-point shooting (9-of-13) and focused mindset made the difference.
"They looked like they were just prepared and they were ready to play us," said 7-foot-3 center Tanveer Bullhar. "It was just a big game for them and they just took it the right way. They were mentally ready."
Added Nephawe: "If we give somebody nine three-pointers, there's no way we're gonna win the game. They were just hot and we were not."
KU and Wichita State will play at 4:15 p.m. Sunday. The game will be televised on CBS.
---
More news and notes from Kansas vs. New Mexico State in the NCAA Tournament
---