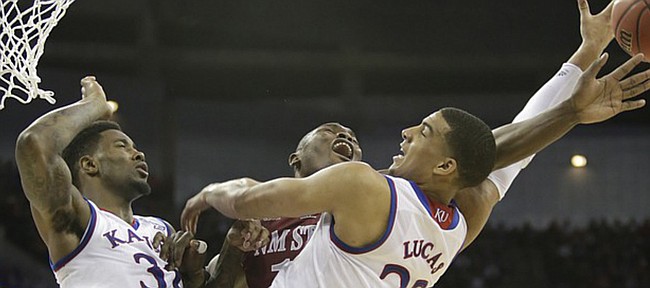 Omaha — A stellar first half and the return of some hot three-point shooting led No. 2 seed Kansas to a 75-56 victory over 15th-seeded New Mexico State and into the third round of the NCAA Tournament.
The Jayhawks, who shot 53 percent in the first half, made 9-of-13 three-pointers for the game (5-of-8 in the first half) and used an attacking style and several lobs over the top of the NMSU zone to cruise to victory.
KU's defense was sensational in the first half, limiting the Aggies (23-11) to nine field goals in 27 attempts. Landen Lucas had a strong showing in trapping the post and making NMSU's guards finish over him, and also held his own against New Mexico State big man Tshilidzi Nephawe, who labored all game against the constant onslaught of KU's size.
Photo Gallery
Kansas basketball vs New Mexico State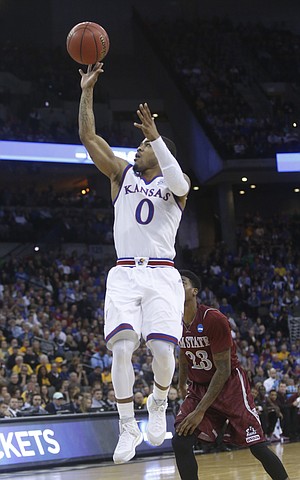 Images from the Kansas Jayhawks second-round NCAA Tournament game against New Mexico State Friday, March 20, 2015 at the CenturyLink Center, Omaha, Neb.
Podcast episode
Kansas basketball coach Bill Self saw his team make 9 of 13 three-pointers Friday in Omaha, where the Jayhawks advanced to the next round of the NCAA Tournament with a 75-56 win over New Mexico State. KU had seven players who scored seven or more points. Self discussed those topics ...
KANSAS 75, NEW MEXICO STATE 56
Perry Ellis and Jamari Traylor also did a great job of getting around the NMSU big men in the post to poke the ball away, particularly in the second half.
While KU's defense frustrated the Aggies on one end, the Jayhawks' offense hit them with some serious balance. Frank Mason III led the way with 17 points (6-of-7 shooting), 9 rebounds and 4 assists, but after that six other Jayhawks scored at least seven points.
That included sophomore sharp-shooter Brannen Greene, who made 3 of 5 shots — 2 of 4 from downtown — for eight points.
Perry Ellis scored nine points in 23 minutes.
The Jayhawks' nine made threes and 69 -percent shooting from downtown marked the first time since KU made 10, 10 and 11 triples in a three-game stretch during the middle of Big 12 play, that Kansas (27-8) made more than six three-pointers in a game.
Here's a quick look back at some of the action:
• The game turned when: Kansas ripped off a 10-0 run that turned a 24-16 lead into a 34-16 lead late in the first half. Devonté Graham hit two three-pointers during the run and Mason and Jamari Traylor added jumpers.
• Offensive highlight: Pick a lob, any lob. KU's constant attacking of the NMSU zone from the high post led to several easy lobs for KU's big men, with Jamari Traylor pulling the trigger on most of the passes. There was one set play lob early in the game out of a timeout from Graham to Wayne Selden Jr.. Selden crept behind the NMSU back line on the far side, caught a perfect pass from Graham with two hands and hammered it to put Kansas up 19-9. Despite connecting on several lobs, the Jayhawks also misfired on at least two or three others.
• Defensive highlight: There were a ton of little plays that don't show up in the stats that guys made throughout this game, but one of the best highlights came early in the second half, when KU had almost turned it over but got it back when Selden poked his hand in to grab a loose ball and almost simultaneously fired a full-court pass to Traylor, who caught it, took a couple of steps and flushed it to put Kansas up 44-30 with 16:42 to play.
• Key stat: Field goal percentage. Kansas shot 54 percent for the game and was over 50 percent in both halves, while the Aggies shot just 36 percent for the game and were not above 38 percent in either half. KU also out-assisted New Mexico State 16-8.
• Up next: The Jayhawks advance to Sunday's Round of 32, where they'll meet the winner of this afternoon's 7-10 match-up between Wichita State and Indiana.
— See what people were saying about the game during the KUsports.com live blog.
---
More news and notes from Kansas vs. New Mexico State in the NCAA Tournament
---