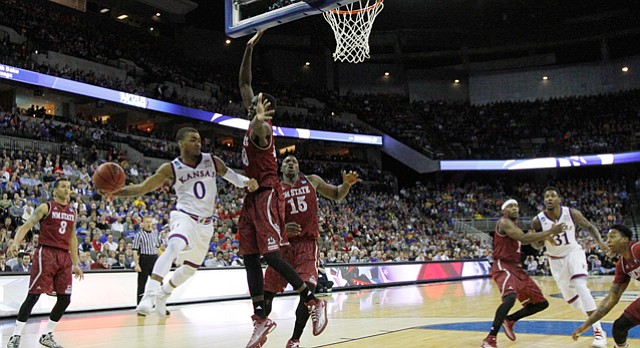 Omaha — Kansas University's basketball players formed a layup line, passing, dribbling and shooting invisible balls to the delight of early-arriving Jayhawk fans more than an hour before tipoff Friday morning in CenturyLink Center.
"Coach said, 'Have fun, today,' and that was a good way to start it off," KU junior forward Jamari Traylor said after the Jayhawks' 75-56 NCAA Midwest Regional Round of 64 rout of New Mexico State.
"They (fans) had a good laugh at it. We might do it some more if we are out early enough before the (next) game," Traylor added with a smile, referring to Sunday's Round of 32 contest against Wichita State
Photo Gallery
Kansas basketball vs New Mexico State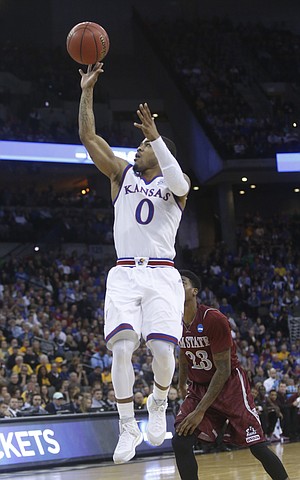 Images from the Kansas Jayhawks second-round NCAA Tournament game against New Mexico State Friday, March 20, 2015 at the CenturyLink Center, Omaha, Neb.
Podcast episode
Kansas basketball coach Bill Self saw his team make 9 of 13 three-pointers Friday in Omaha, where the Jayhawks advanced to the next round of the NCAA Tournament with a 75-56 win over New Mexico State. KU had seven players who scored seven or more points. Self discussed those topics ...
KANSAS 75, NEW MEXICO STATE 56
KU and Wichita State will tip off at 4:15 p.m. Sunday. The game will be televised on CBS.
The (27-8) Jayhawks were just as successful shooting real basketballs as the make-believe balls that jump-started an impressive day.
KU experienced no first-game tournament jitters in hitting an uncanny 54 percent of its shots while busting out of a horrible three-point shooting slump. The Jayhawks went nine of 13 from three (69.2 percent) after making 16 of 83 threes (19.3 percent) during the past seven games.
"We were all loose," said KU sophomore wing Brannen Greene. He hit two of four threes and scored eight points after making just four of his past 28 threes over nine games.
"We had to wake up at 6:45 (for 11:15 a.m., tip). Even at breakfast we were all loose, having fun. Kelly (Oubre, Jr., eight points, 2-3 from three) was running around like his normal self, being a nut. Everybody was loose and we had fun with it," Greene added.
From start to finish, it just seemed to be a care-free day for the Jayhawks.
"We all had great attitudes in the early morning. That's something very rare. I'm not a morning person," Oubre said. "My teammates had me in a good mood this morning."
Junior forward Perry Ellis, who scored nine points off 4-of-10 shooting with two rebounds in 23 minutes, said the squad's mental frame of mind — helped in large part by the fake layup frivolity — was pivotal.
"Getting everybody's juices flowing, just getting everybody confident. Before the game, everybody was energized. It was a good sign. We got after it and had a great game," Ellis said.
Sophomore point guard Frank Mason III, who scored a game-high 17 points with nine rebounds and four assists, had some pre-game words of wisdom for his teammates.
"Frank came out and said, 'I'm gonna lead you guys. I'm gonna set the tone.' That's what he did," Greene stated.
Mason, Oubre and Ellis hit early threes as KU raced to a 22-12 lead. By halftime, the free-flowing Jayhawks, who had no problems with New Mexico State's zone defense, held a 36-23 lead thanks in part to 5-of-8 three-point shooting (53.6 overall).
KU led, 49-32, following Oubre's second three with 13:54 left, and the lead never dipped under 10 during the second half.
KU's three-point percentage of 69.2 percent tied for the fifth-best mark in school history (since records started being kept in 1988-89). It was KU's best three-point percentage since a 71.4 mark against Virginia in 1996.
"They (fans) started laughing and smiling, going crazy," said Greene, asked if he could sense the KU fans in attendance were pleased with the squad finally getting hot from beyond the arc.
As far as his own shooting ... "coach Howard (Jerrance, assistant) actually told me to let the next one fly no matter where it was, even if it was from the NBA line (after he hit his first three with 7:59 left). His second swished at 7:06, giving KU a 63-43 advantage.
"Coach (Bill Self) told me to shoot it if I was open. I wasn't necessarily open. The guy was low. His hands were down. I took the shot and made it."
Greene said pre-game helped his confidence as well.
"My shot felt good ever since warmups," he said. "I knew even in the first half when I missed two shots, I felt good. I felt I had my old shot back. I knew I was going to keep shooting. Coach has confidence in my shooting and my teammates as well. I'm definitely looking forward to the next couple of games and getting into a groove."
Self joked that he removed the lids from the rims to help his players.
"Going forward if you are not going to get easy baskets, somebody has to jump up and make a play," Self said. "It should give us some confidence moving forward. I coach from a negative standpoint this way — we've got to figure a way to win when you don't make shots. It makes it so much easier if you can step up and run average offense and come up with three points."
The Jayhawks outrebounded New Mexico State 36-29, and held the Aggies (23-11) to 35.7 percent shooting, 5-of-15 from three.
"The eight that played a lot of minutes ... they all did well," Self said. "Kelly made two big shots off the bat. Wayne (Selden, Jr., six points) never got in rhythm because of fouls. Frank was great. Landen (Lucas, nine boards, seven points) was terrific in the post defensively. Jamari (eight points, five boards) was good. When you shoot the ball like that ... Brannen making three jumpers should give us confidence moving forward.
"Defensively we've not trapped the post a lot this year. We did a good job on post traps. They turned it over some (11 times to KU's 14). We made them play poorly. Whenever a team shoots 35 percent and you out-rebound them, you have a chance to do well," Self noted.
---
More news and notes from Kansas vs. New Mexico State in the NCAA Tournament
---
More like this story on KUsports.com