Omaha — The Kansas University basketball team took the CenturyLink Center court for the second round of pre-game warmups Friday morning, meaning it was time for New Mexico State's players to all go to the other end of the floor.
Kansas point guard Fearless Frank Mason III, a 5-foot-11 giant, stopped for an instant, locked his big eyes on one of the Aggies' tallest players and gave him the icy glare typically seen at the center of the ring when boxers receive instructions.
If Mason's glare had lips, perhaps they would have formed the words, "I'm going to play bigger than you."
Photo Gallery
Kansas basketball vs New Mexico State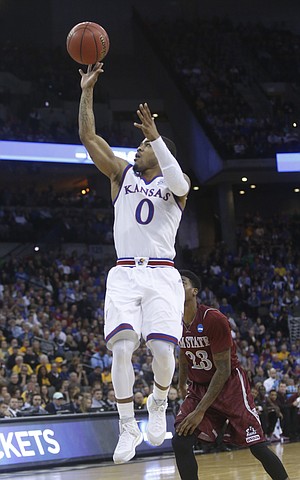 Images from the Kansas Jayhawks second-round NCAA Tournament game against New Mexico State Friday, March 20, 2015 at the CenturyLink Center, Omaha, Neb.
Podcast episode
Kansas basketball coach Bill Self saw his team make 9 of 13 three-pointers Friday in Omaha, where the Jayhawks advanced to the next round of the NCAA Tournament with a 75-56 win over New Mexico State. KU had seven players who scored seven or more points. Self discussed those topics ...
KANSAS 75, NEW MEXICO STATE 56
And then he did. Nobody had more points (17) and rebounds (9) than Mason in KU's 75-56, stress-free domination of the Aggies.
Nearly every decision he made, how to attack the spread-out zone, when to drive to shoot, when to drive to pass, how to break the press, was the right one. He made 6 of 7 field goals, both three-pointers, and 3 of 4 free throws. He also had four assists, just two turnovers and two steals.
Mason's save of a ball that had flown out of bounds didn't raise any eyebrows among those who have seen him contorting his body so quickly without losing balance, because he does it so smoothly the shock value is totally gone. Mason's come such a long way in such a short time in his evolution from high school scoring sensation to college point guard.
"Incredible basketball player, incredible ball-handler. Honestly, I think he's the best ball-handler in college basketball," said slump-busting shooter Brannen Greene, who had a big day himself. "Never gets the ball taken away from him, just always seems to make the right play. His quickness is superb, the things he can do athletically, nobody else on the team can do. He always picks on us in practice, like, 'Man, you can't make that play? I can make that play.' And he'll go and do it."
Such physical gifts and a nice feel for the game enabled Mason to lead his team to the regular-season title in the Big 12, a league loaded with talented point guards. Sometimes he got the better of the matchup. Sometimes he didn't, though never for lack of effort and never out of fear.
Mason aced his first test as starting point guard in an NCAA Tournament game. If New Mexico State as an entry-level course, Wichita State is advanced calculus in the point-guard department.
Mason's Sunday matchup with Fred VanVleet ranks high among the intriguing subplots of a game brimming with so many angles. It comes with an ironic twist in that the celebrated player with a national name and All-American support is from the Missouri Valley school, not the perennial powerhouse.
Mason played in his third tournament game Friday, VanVleet in his eighth. He, more than anyone on the floor, was responsible for him being able to play in a ninth.
VanVleet has earned every ounce of his fame by consistently doing all the things asked of a point guard. He runs the team so efficiently and runs the other team into the ground.
VanVleet unloaded 27 points on Indiana, dished four assists, turned it over once and had two steals. Relentless in transition, he also played a big role defensively. Tekele Cotton plays the role of shut-down defender for the Shockers, so coach Gregg Marshall had him checking first-team Big Ten guard Yogi Ferrell to start the game. Ferrell was on fire, scoring on drives and threes on his way to 24 points. When Marshall switched VanVleet onto him midway through the first half, Yogi slowed down considerably.
"Fred just understands guarding point guards a little better," Marshall said. "Yogi was having his way, and Fred, I thought, did a wonderful job, besides scoring all the points he did, he defended beautifully."
Superlatives were flying about both point guards who will hear their names called in the (first) game of the century between the schools.
"You can just get the ball to him and he's a one-man press-breaker," Greene said of Mason. "He's big for us. He makes plays. He gets everybody involved. He demands respect just because of what he's done throughout the season. He makes us all better."
Said Devonté Graham of Mason: "He's a smart player. He makes the right decision almost on every possession, just takes care of the ball. He just does the little things for our team."
Little's not often a word associated with Mason, such a big part of KU's chances of advancing. Nothing about his game is little. He even gets up for dunks as high as nearly anybody on the team.
"Oh for sure," Greene said. "If you haven't seen him in warmups, yeah, man, he gets pretty high. He does everything everyone else does: between the legs, windmills, all that. It's just if he wants to bring it out. He doesn't bring it out some days. Some days he does."
Pre-game style from Mason won't be needed Sunday, just in-game substance. For a guy with his gifts, Mason isn't very flashy.
"He keeps the same facial expression all the time," Graham said. "Coach talks to him about that: 'You need to show emotion.' But that's just the kind of guy he is. He's playing great, so I don't care what kind of face he makes."
---
More news and notes from Kansas vs. New Mexico State in the NCAA Tournament
---
More like this story on KUsports.com