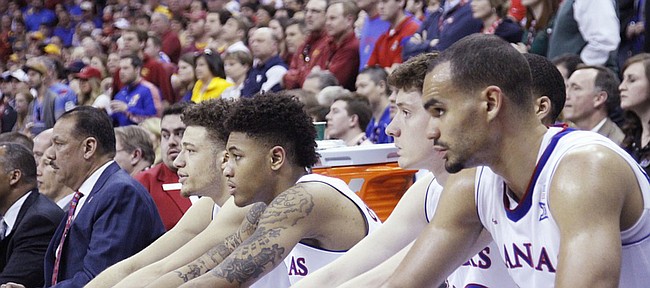 Kansas City, Mo. — To some, it may have seemed as if the entire population of Ames, Iowa descended on Kansas City's Sprint Center for Saturday's Big 12 championship game against Kansas University.
Perhaps a slight exaggeration, but at least half to 60 percent of the 19,075-seat arena was occupied by Iowa State Cyclone fans — ones who thoroughly enjoyed ISU's 70-66 win.
"I obviously applaud Iowa State's people because I don't know how in the world they can get 10,000 people in this building and have 5,000 waiting that can't get in," KU coach Bill Self said after his team squandered a 17-point lead in defeat.
Photo Gallery
Kansas basketball v. ISU in Big 12 Tournament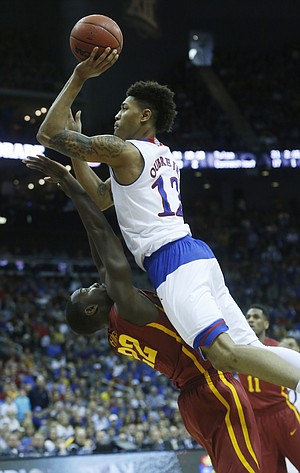 Images from the championship game of the Big 12 Tournament between KU and ISU
Podcast episode
Kansas basketball coach Bill Self, as well as players Wayne Selden Jr. and Frank Mason III, discuss the Jayhawks' loss in the Big 12 Championship game to Iowa State, which rallied from a 14-point halftime deficit.
IOWA STATE 70, KANSAS 66
"It's unbelievable how they took over downtown. And our fans were good today, too, but their fans certainly — I guess it's a destination, Kansas City is — for their fans because they packed them in here.
"I think the crowd obviously helped them, but it wasn't a factor in the game. I think it gave them energy the second half," Self added.
The Jayhawks said they were not shocked by the large contingent of Cyclone supporters.
"Last year they brought a lot, too," said KU junior Perry Ellis. ISU beat KU in the semifinals last season. "I wasn't too surprised. They travel real well. There were a lot of people out there."
KU's Wayne Selden Jr., who scored a career-high 25 points and made the all-tournament team, said: "I felt like for most of the game they weren't really a factor. We let them get into the game, so ..."
Junior Hunter Mickelson, who scored two points with two boards in eight minutes, noted: "It's a tournament. It's a tossup whoever is going to be here and who isn't. I wasn't that surprised."
---
More news and notes from Kansas vs. Iowa State in the Big 12 Championship
---
More like this story on KUsports.com