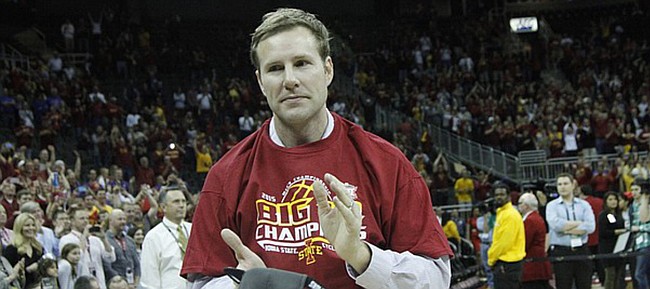 Kansas City, Mo. — With his Big 12 Tournament championship hat propped up on his head and a smile of the utmost satisfaction plastered on his face, Iowa State senior Dustin Hogue leaned forward from his locker and looked into the future.
During the past few seasons, Hogue has heard an awful lot about how Kansas basketball owns the Big 12. But with two straight conference tournament titles backing him and at least one victory over the Jayhawks in three of the past four seasons — including Saturday's 70-66 Big 12 title triumph at Sprint Center — Hogue said he believed the time had come to start looking at the Cyclones (25-8) on equal footing with the Jayhawks (26-8). And he was not afraid to make a bold prediction for a year from now.
"I think our team's gonna step up and even be deeper next year," said Hogue, who joins Bryce Dejean-Jones as the only rotation guys not returning to next year's Cyclones. "You're gonna have a more mature Georges Niang, a more mature Monté (Morris) and everybody's gonna up their game another level. Next year, I'm telling you now, I believe that Iowa State will take the regular-season championship. I believe it for sure."
Photo Gallery
Kansas basketball v. ISU in Big 12 Tournament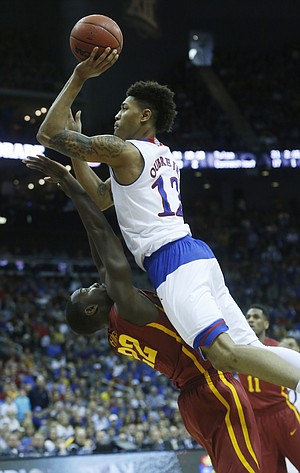 Images from the championship game of the Big 12 Tournament between KU and ISU
Podcast episode
Kansas basketball coach Bill Self, as well as players Wayne Selden Jr. and Frank Mason III, discuss the Jayhawks' loss in the Big 12 Championship game to Iowa State, which rallied from a 14-point halftime deficit.
IOWA STATE 70, KANSAS 66
Ending KU's insane run of 11 consecutive Big 12 regular-season titles is certainly easier said than done. But Hogue said he thought it was only a matter of time before one of the nine other teams in the Big 12 found a way to unseat Kansas.
And given the way the Cyclones have shown they can compete with KU in recent years, Hogue said he thought it was bound to be his alma mater that got it done.
"Every time the Big 12 is brought up, the word Kansas is brought up," Hogue said. "Everyone wants to talk about Kansas all the time and we're letting people know that we can play with Kansas, we can beat Kansas. We've shown people two years in a row now that we've won the Big 12 tournament, and it's not like we won it without playing them. We went through them both times."
For ISU coach Fred Hoiberg, that last fact seemed to be as gratifying as any part of this year's title run.
"To get the opportunity to play (Kansas) for the championship was great for us," he said. "I think the two teams have great respect for each other. I know we do, and I think they have the same for us."
Of course, before anybody gets another crack at ending KU's Big 12 regular-season stranglehold again, there's that whole matter of the next couple of weeks and the NCAA Tournament that lies in the immediate future.
With the tourney field coming out Sunday evening, there's not much time left to speculate or stress about who might be seeded what, or where they could be sent. But the Cyclones could not help but talk about it following their victory over Kansas, which many analysts have pegged as a No. 2 seed.
"It's tough to say," said junior guard Naz Long, when asked if Iowa State may have stolen KU's seed with Saturday's victory. "I know the committee looks at everything when it comes to choosing seeds, but I hope we put ourselves in position to be a 2 seed. We'll see tomorrow."
Added Hogue: "I hope so. We played (Kansas) three times this year and we won twice. We've played teams just as good as they have. We've been winning all season. So if they're a No. 2, I feel like we should be a No. 2 because we showed that we can beat them."
---
More news and notes from Kansas vs. Iowa State in the Big 12 Championship
---
More like this story on KUsports.com