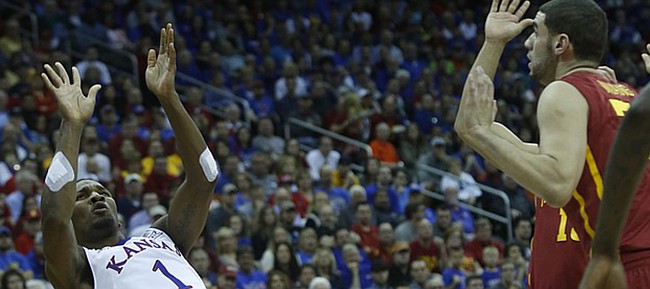 Kansas City, Mo. — Kansas University basketball's streak of 11 consecutive Big 12 regular-season titles is in tact, but the Iowa State Cyclones now have won back-to-back Big 12 Tournament titles.
No. 2 seed Iowa State fought off a 17-point second-half deficit and topped No. 1 seed Kansas, 70-66, in a wild atmosphere at Sprint Center.
After a game like this, why would anyone even think about moving the tournament away from Kansas City?
Photo Gallery
Kansas basketball v. ISU in Big 12 Tournament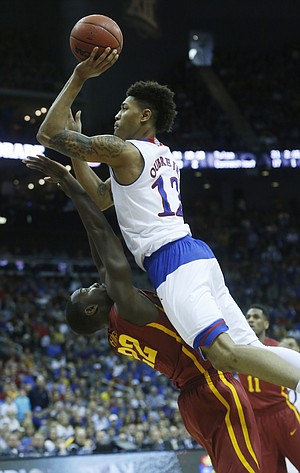 Images from the championship game of the Big 12 Tournament between KU and ISU
Podcast episode
Kansas basketball coach Bill Self, as well as players Wayne Selden Jr. and Frank Mason III, discuss the Jayhawks' loss in the Big 12 Championship game to Iowa State, which rallied from a 14-point halftime deficit.
IOWA STATE 70, KANSAS 66
Both teams played hard, both fan bases cheered loudly and the team that made more plays in the final minutes came away with the hardware.
KU built a 14-point halftime lead with some more fantastic defense and hot shooting. But the Jayhawks looked like a different team in the second half. Offense became difficult and stopping Iowa State was next to impossible.
As KU coach Bill Self had done so many times this season by telling his team to just drive it to the rim and find a way to score, Fred Hoiberg's squad did that very thing during crunch time and could not be stopped. Bryce Dejean-Jones scored six of eight points for ISU on drives to the rim during a stretch that turned a 51-49 KU lead into a 57-51 ISU lead. That stretch also gave the Cyclones control for good.
Georges Niang led the Cyclones with 19 points and Wayne Selden Jr. led Kansas with a career-high 25 points. Selden's three-point play with just over a minute remaining tied the game at 63, but the Cyclones (25-8) made all the plays in the final minute to help pull out the victory.
Kansas fell to 26-8 with the loss.
Here's a quick look back at some of the action:
• The game turned when: Iowa State responded to falling behind by 17 in the opening minute of the second half with an insane, 32-11 run, that turned a 40-23 deficit into a 55-51 lead
• Offensive highlight: With Iowa State closing hard after falling behind by 17 in the opening seconds of the second half, Frank Mason III pushed the ball in transition and fired a 30-foot lob pass to Selden, who caught it with one hand, head eye-level with the rim, and flushed it with authority to push KU's dwindling lead back to two possessions.
• Defensive highlight: Chalk up another one for Hunter Mickelson, who, again in limited time, made his presence felt. With around 6:30 to play in the first half, Iowa State's Dejean-Jones drove to the rim with a head of steam only to have the longer and taller Mickelson recover, elevate and reject the shot in one fluid motion. The block keyed a KU fastbreak and served as further notice that Mickelson has a place in this team's rotation.
• Key stat: After out-shooting ISU 44-35 percent in the first half, KU was out-shot 52-26 percent in the second half.
• All-Tournament Team: Rico Gathers (Baylor), Buddy Hield (Oklahoma), Selden (KU), Monté Morris (Iowa State) and Niang (ISU). Niang was named the tournament's most valuable player.
• Up next: The Jayhawks, like most of the rest of the teams in the country, will head to bed tonight wondering where they will be seeded in this year's NCAA Tournament and will find out at 5 p.m. Sunday during the NCAA Selection Show. Most analysts and people who like to predict such things have the Jayhawks pegged as a No. 2 seed but it will be interesting to see if Saturday's Big 12 title game loss has any impact on that. 
---
More news and notes from Kansas vs. Iowa State in the Big 12 Championship
---
More like this story on KUsports.com