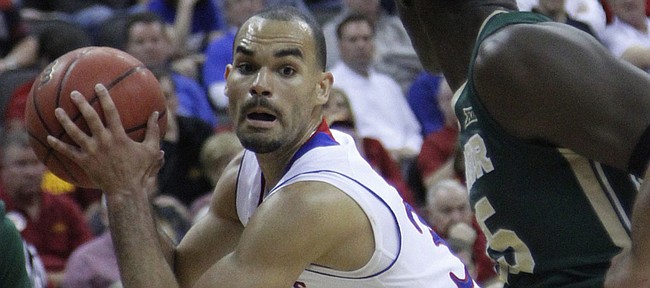 Kansas City, Mo. — There's a suite in the Downtown Marriott hotel that has been turned into a makeshift training room for Kansas University's basketball players.
It's a place KU junior Perry Ellis has pretty much called home since the KU traveling party checked in on Wednesday night.
"I go in there when I wake up, throughout the day, trying to get my knee in the best possible (condition). It's been going great," Ellis said after scoring 11 points off 4-of-11 shooting and grabbing six rebounds while playing 26 minutes in KU's 62-52 Big 12 tournament semifinal victory over Baylor on Friday night in Sprint Center.
The 6-foot-8 Ellis has been working almost non-stop on rehab after hurting his knee in the first half of a home win over West Virginia on March 3. He missed the second half of that contest and the ensuing two games, electing to return on Friday.
"I felt today was the day and it felt great," said Ellis, who told KU coach Bill Self after a morning workout he physically was able to play.
"I told him I've been working hard just trying to get back right. I told him, 'I'm ready. I want to get back out there.' He said, 'Great man, great,''' Ellis added.
Ellis hit his first shot, a three, shortly after Kelly Oubre Jr. opened the contest with a three of his own, (26-7) KU jumping to a 6-0 lead over the (24-9) Bears.
"I can vouch for him, because he's doing so much treatment all the time," KU junior Jamari Traylor said of Ellis sorely wanting to return to action. Traylor is Ellis' roommate in the Marriott.
"That's how I know he's anxious to play. He's always in the treatment room trying to get better and rehabbing that knee," added Traylor, who had one point, five rebounds and two steals in 22 minutes.
Sophomore forward Landen Lucas, who scored four points and grabbed six rebounds in 25 minutes, has been rehabbing his own hip and knee and has been bonding with Ellis in the Marriott trainers suite.
"I've been with him in there a lot. All he talks about is doing whatever it takes to get back for his teammates," Lucas said. "He's a great teammate, a great kid. He's been doing everything he could and it shows in how quickly he recovered from an injury like that."
Ellis appeared to bang his knee on a baseline move with about eight minutes left. He checked out with 7:50 left and KU up, 45-36, and did not return.
No worries. He's OK.
"It wasn't my knee. I got a knee high up in the muscle," Ellis said of a fleshy area above the knee. "I definitely could have returned. I'm fine."
KU coach Self noted: "I could have put him back in, but we had the game. The bottom line is he's going to get his leg hit, that's basketball. It's just like a running back gets hit. You've got to get hit and realize you're OK and that's what happened there. He should be fine and there should be no problems (Saturday, in 5 p.m., Big 12 final)."
Ellis figured to hit the training room into the late hours Friday night and again before the championship game. He explained the simple act of taping his knee is kind of an ordeal.
"Maybe 10 minutes or so. It's a lot of wrap, a lot of different tapes, like three different tapes, and stuff. It works well. As you get going, it loosens up and feels fine," Ellis said.
And the black brace he wears over the tape is not a hindrance, he said.
"I've been wearing it a couple days. I'm used to it. On the court it doesn't bother me at all," Ellis said.
He was in good spirits after the game, acknowledging the fact he was thinking about his brother Cameron's Wichita Heights team, which at the same time was in Topeka winning a Class 5A high school semifinal game. Perry's mom, Fonda, was in Topeka representing the family. Perry's dad, Will, sis Savannah and brother, Brae, were in KC for the win over Baylor.
"They (family members) have to do a little switch-off," Ellis said. "Hopefully they can pull it out and win it all this year."
Ellis acknowledges his mood wasn't so positive just 10 days earlier when Lucas fell into his knee in the West Virginia game.
"I didn't know what was going on or what was happening," he said. "It was minor, but the first thing that's really happened to me injury wise. I didn't know what to expect. I'm grateful because it wasn't too bad. Each day it's getting better and better. I'll keep going with the trainer and take it from there."
As far as the technical aspects of Friday's win ... KU held Baylor to 20 percent shooting the first half (five of 25) in grabbing a 26-18 lead. KU used a 16-1 run to grasp a 32-18 lead with 17:31 left. BU did cut the gap to 36-30 at 12:41 and 39-35 at 11:11. KU used a Wayne Selden Jr.-led 10-0 run to up a 41-36 lead to 10 points at 5:07. Selden finished with 20 points.
"There for a while, I think both teams set basketball back," KU coach Self joked of the low-scoring first half. "Mr. Iba and Dr. Allen would have been proud there for a while. We got a little rhythm offensively and really played well defensively and rebounded the ball. We were on fire from three because we made three (of 12)," he added with a smile. "That's the best we've shot in a while. We defended for 40 minutes and rebounded great (39-35 advantage)."
KU on Saturday will meet Iowa State in the 5 p.m., title game.
More news and notes from Kansas vs. Baylor at the Big 12 Tournament
---
More like this story on KUsports.com