Kansas City, Mo. — Kansas University's men's basketball team held Baylor to its lowest point total of the season Friday night in a 62-52 Jayhawks victory at Sprint Center.
"They missed some open looks, but I thought we defended them well," KU coach Bill Self said after his team advanced to the Saturday night Big 12 Championship game.
Baylor hit 19 of 58 shots for 32.8 percent (4-22 from three).
Photo Gallery
Kansas v. Baylor in Big 12 Touranment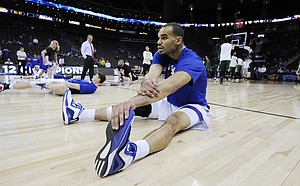 Images from the Jayhawk's game against Baylor in the semi-finals of the Big 12 Tournament in K.C. MO., Friday.
Podcast episode
Kansas basketball coach Bill Self and Jayhawks Perry Ellis and Wayne Selden Jr. discuss KU's 62-52 win over Baylor in the Big 12 Tournament semifinals. Kansas won with defense, a big night from Selden and the return of Ellis.
KANSAS 62, BAYLOR 52
The Jayhawks held Rico Gathers to 11 points off 3-of-7 shooting while forcing the forward to commit five turnovers.
"He got 13 rebounds," Self said, lauding the first-team all-league forward. "We trapped him early, which led to maybe a couple of missed shots. We did do a good job of challenging his shots high. He made a great left-handed hook to start the game from six feet, which is a hard shot. For the most part we didn't give him angles. We were able to throw more bodies at him and those guys, Landen (Lucas) especially competed hard against him."
The final: KU today will meet Iowa State, a squad the Jayhawks split with this season. KU won, 89-76, on Feb. 2, in Allen Fieldhouse and lost, 86-81, on Jan. 17 in Hilton Coliseum in Ames.
The Cyclones have a large contingent of fans in town, meaning it should be a battle on the court and in the stands.
"Those guys can score the ball, have great guard play and great coaches," KU's Jamari Traylor said.
"We're Kansas. We're ready to play anybody," Brannen Greene said. "It will be a quick turnaround. We have to stick to defensive principles and our scouting report."
Added Self: "We've got to be better offensively. You are not going to hold them to 50 points. We've got to be able to score tomorrow."
This, that: After starting the game 3-for-3, the Jayhawks didn't score for six minutes, 16 seconds and missed six-straight shots. ... The Bears closed the first half 0-for-8 and hit five of 25 first-half shots for a season-low 18 points in a half. ... .The Bears did not record a field goal from the 7:10 mark of the first half to the 17:01 mark of the second – an 0-for-14 span ... KU last held an opponent to 20 percent shooting in a half when Howard went for 20 percent on Dec. 29, 2011.
More news and notes from Kansas vs. Baylor at the Big 12 Tournament
---
More like this story on KUsports.com