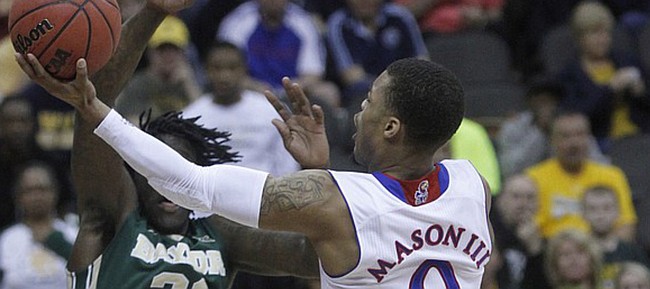 Kansas City, Mo. — The Kansas Jayhawks opened the scoring with two three-pointers in the early going and then allowed their defense to carry the load the rest of the way.
The result was a hard-fought, 62-52 victory over Baylor that pushed the Jayhawks (26-7) into Saturday's Big 12 title game against No. 2 seed Iowa State at 5 p.m. on Saturday.
The Cyclones knocked off third-seeded Oklahoma, 67-65, in Friday's other semifinal at Sprint Center.
The Bears (24-9) made just five field goals in the first half and shot 33 percent from the floor for the game, numbers that allowed Kansas to control the game from start to finish despite not having one of its best offensive outings either.
Photo Gallery
Kansas v. Baylor in Big 12 Touranment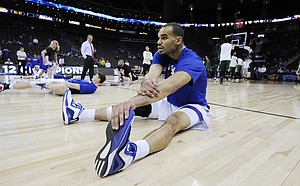 Images from the Jayhawk's game against Baylor in the semi-finals of the Big 12 Tournament in K.C. MO., Friday.
Podcast episode
Kansas basketball coach Bill Self and Jayhawks Perry Ellis and Wayne Selden Jr. discuss KU's 62-52 win over Baylor in the Big 12 Tournament semifinals. Kansas won with defense, a big night from Selden and the return of Ellis.
KANSAS 62, BAYLOR 52
Sophomore guard Wayne Selden Jr. led KU with 20 points on 7-of-9 shooting and also added 8 rebounds and 3 assists. Junior forward Perry Ellis, who returned to the starting lineup after missing two-plus games with a knee injury, added 11 points on 4-of-11 shooting and 6 rebounds and looked pretty effective in all areas. Ellis did check out with around 7:00 remaining and appeared to be limping slightly as he left the floor. He did not return. 
Sophomore point guard Frank Mason III, who took until deep in the second half to record his first points and finished 3-of-11 shooting, picked up some clutch buckets on signature Mason drives to the basket late in the game and added 8 points and 4 assists. 
The game was not always pretty but did resemble the way Kansas has won — and lost — so many games during the final few weeks of the season — a grind-it-out, hard-fought, outlast-your-opponent-and-ice-tomorrow type of battle.
Here's a quick look back at some of the action:
• The game turned when: KU responded to Baylor tying things up at 17 late in the first half with a 15-1 run that covered the end of the first half and the start of the second. That spurt put Kansas up 32-18 early in the second half and proved to be just enough of a cushion for KU to ride to victory.
• Offensive highlight: There were lobs, tough finishes and even a few pretty put-backs, but the sight that was sweetest for KU fans — as well as those on the Kansas bench, perhaps — was Brannen Greene's perfectly stroked three-pointer from in front of the KU bench that put Kansas up 39-30 with just under 12 minutes remaining. The swished three did not take the lid off the basket permanently for Greene, but it ended a long drought and looked very much like those long-range bombs people were used to seeing from him midway through the season.
• Defensive highlight: In the first half, with both sides struggling to find anything that works offensively, the Bears pounded the ball into big man Rico Gathers, who had KU's Hunter Mickelson on him one-on-one. Gathers made a move right at Mickelson and then rose for a jumper in the lane. Mickelson rose higher and rejected it just as the shot came off Gathers' hand. Despite giving up all kinds of size, power, muscle and intimidation, Mickelson went toe-to-toe with Gathers and won on that occasion.
• Key stat: Baylor had just two players shoot 40 percent or better from the floor in this one, and one of them was 1-for-1. Kansas' defense — and work on the defensive glass — forced Baylor into tough shot after tough shot and kept the Bears' offense from ever finding a rhythm.
• Up next: KU advances to Saturday's title tilt against No. 2 seed Iowa State. KU and ISU split the regular season and got both games out of the way by mid-January.  
More news and notes from Kansas vs. Baylor at the Big 12 Tournament
---
More like this story on KUsports.com